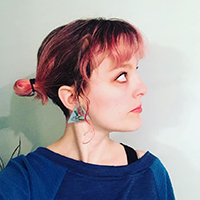 Year Graduated 
2012
Major/ Minor 
Graphic Design
Noteworthy campus achievement 
I won multiple prizes from juried student art exhibitions and worked as lead designer at the Tech and Design office. I also made a lot of lasting friends, which is an excellent achievement since having a network of talented, amazing humans is something you bring with you even after college. In fact, I would argue that the people you meet is THE best argument for attending a college program and not just learning online. Your peers and teachers are your most valuable resource. But I digress.

What are you up to now? 
These days, I'm working as a designer and illustrator for Crutchfield Corporation. Though my main job is to do catalog spreads and help curate online content, I have been able to participate in all kinds of fun miscellaneous projects from designing company t-shirts and decals for the brick-and-mortar store's windows, to testing drones in the woods and constructing a 12-foot long cardboard boat for a photoshoot! Outside of my day job, I'm also building a series of mini fictional worlds focusing on my original characters and stories. I have a graphic novel in production right now about the difficulties of becoming an adult set in context of a sci-fi mystery story.
How does your art major/minor inform your career?
Practically, I make my living as a graphic designer, exactly what I went to school for. But that's the boring answer. Honestly, my "career" doesn't matter to me as much as my "raison d'etre" (thanks to Tate for that phrase, it's never left me), which I've finally admitted is illustrational storytelling. I was lucky to have wonderful teachers who encouraged my illustration and writing, and even did my Honors Thesis as an exploration of graphic novels. Without that, I may never have ended up finding out how much I adore comics as a storytelling medium.
What are some of the most valuable skills you gained from the School of Art, Design and Art History?
I didn't realize I had learned this until after I graduated, but being able to systematically break down creative projects by developing my own "syllabus" has helped me stay super productive. As much as I might have grumped about deadlines and schedules as a student, they really are fantastic for getting a project divided into manageable chunks. I'm also grateful that my education consisted of a variety of arts, because though I was focused on drawing and design, honing 3D building skills and a knowledge of fiber arts, clay, and more has given me the tools to create more unique designs. I mean, I said this above, but I built a 12-foot cardboard boat for work, and I was asked to do so because my diverse artistic abilities have made me the go-to person for off-the-wall projects like that.
What is your advice for JMU students knowing what you know now?
What you learn in college is valuable, but it's about 20% of what you need to know working professionally. That's ok. College is only 4 years of your life and it can't teach you everything. But don't go into your first job believing you have it all together and that you know just as much as the senior designers. Go in with a humble mindset, ask lots of questions, don't be afraid to admit you don't know things, and recognize that your learning journey is never really going to end. That's a good thing! The moment you stop learning is the moment you stop growing, and when you stop growing, you die. Never stop learning. Live forever.
Website/Blog