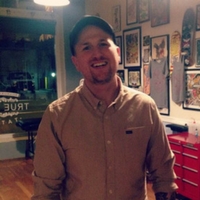 Year Graduated
2010
Major/Minor
Art, Graphic Design 
What are you up to now?
I'm a tattooer living in Roanoke, Virginia relocating to Durham, NC in the upcoming year.
How does your art major/minor inform your career?
It gave me the fundamentals to pursue something I am very passionate about.
What are some of the most valuable skills you gained from the School of Art, Design and Art History?
I would say the desire to discover and research is one of the most valuable skills I cultivated while at JMU. Taking the time to find the perfect source of inspiration and reference has truly benefited my current career.
What is your advice for JMU students knowing what you know now?
Do not take for granted your opportunity to create so freely. Live at the studio. Paint all day and night.