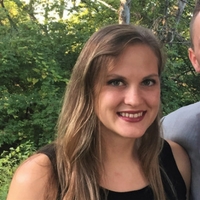 Art (photography) / Art Education

Year Graduated
2012
Major/Minor
BFA Art-Photography / Art Education
Noteworthy campus achievement 
Vice President, NAEA Chapter at JMU, 2011-2012 Recipient, Dr. Jay D. Kain Art Education Scholarship Award, 2011 Recipient, Myra Doherty Memorial Scholarship, JMU Foundation, 2011 Group Shows: Undergraduate Art Show for Metals and Jewelry, Art Works Gallery, Nov. 2011 Looking Closely: Images by Artists and Scientists, Institute for Visual Studies, Feb. 2011 Solo Shows: Connections, Artworks Gallery, Harrisonburg, VA, Spring 2012 Madison Union Art Galleries, James Madison University, Jan. 14th-Feb14th, 2011 Vice President, NAEA Chapter at JMU, 2011-2012 Recipient, Dr. Jay D. Kain Art Education Scholarship Award, 2011 Recipient, Myra Doherty Memorial Scholarship, JMU Foundation, 2011
What are you up to now?
I am currently living and teaching in Pennsylvania with my husband and two children. I teach Drawing, Pottery, Mixed Media, Functional Design, and Art Foundations to students grade 9 through 12. I completed a Master's Degree in Instructional Technology and along with my Art teaching Certificate I have one for Technology Education. Other than teaching, I am a professional photographer and create commissioned paintings and ceramics. I love teaching, creating, and experiencing life.
How does your art major/minor inform your career?
Art is an essential element in my career & life. My experiences at JMU and through teaching have placed an emphasis on the importance of creating. The professors and students I made connections with through my years at JMU were extremely influential. I've kept most of my binders, notes, and assignments and still look back on the feedback I've gotten to help me be more successful today. 
What are some of the most valuable skills you gained from the School of Art, Design and Art History?
An open mindset is the most valuable skill I gained through my time at SADAH. As Professor Tate once taught us - turn your thinking inside out. Being able to view art, life, and situations in various ways have led me to be a much more creative person and I truly feel this fact allows me to be a more influential educator.
What is your advice for JMU students knowing what you know now?
Take Advantage of the studio space, the amazing faculty, the art community, and campus organizations/activities as much as humanly possible. The world of college and the freedom you have to create and learn is a unique experience that is limited to a few years - but the connections & experiences you make there are long lasting. So get out and get connected!

Twitter: @CCHS_art
Website: www.artroom305.weebly.com