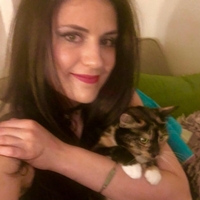 Art (painting & drawing) / Art Education

Year Graduated
2010
Major/ Minor
BFA Painting and Drawing, Art Education 
Noteworthy campus achievement 
Alpha Sigma Alpha Sorority: was in charge of the props for Greek Sing in 2010 and we won first place! Freshman Foundations Art Award 2006 Junior Art Achievement Award 2009

What are you up to now?
In the first year after graduating from JMU I did a ton of painting and working with kids. I moved to Philadelphia in 2011 to do my MFA at Pennsylvania Academy of Fine Arts, and since graduating in 2013 I've been both an artist and educator. I spent one year teaching K-8th grade at a charter school in Philadelphia. Now I teach mainly AP Art at an awesome suburban high school right outside the city. I get to help kids earn scholarships to great art schools, and I plan to keep this job for the long run.
As an artist, over the past three years I have had two solo shows and was published in the Northeast issue #110 of New American Paintings. I still paint, draw and show my work whenever I can, and I'm constantly learning new things I never knew about art!  
How does your art major/minor inform your career?
As a studio art and art education major I wasn't sure if I wanted to teach or focus more on my art. Over the past six years I have finally started to figure out how to balance my two passions, and JMU gave me the knowledge and professional certification to do so.
I'm so thankful for the joint studio art and art education program at JMU, because it meant I didn't have to choose between the two. The art criticism and aesthetics courses at JMU also gave me ideas that I researched further for my graduate thesis, and still use and consider as a teacher.  
What are some of the most valuable skills you gained from the School of Art, Design and Art History?
The studio art foundations and figure drawing courses provided me with a good framework for constructing my own creative work. I left JMU feeling like I really knew how to draw.
In the art education department, I was very well prepared to create a comprehensive art curriculum full of visual culture and real world connections. I use what I learned about planning rich and meaningful art lessons every day at my job.  
What is your advice for JMU students knowing what you know now?
Make art every single day, look at as much art as you can to know what's going on in the art world, get to know artists, and take advantage of every opportunity that comes your way. Follow artists, museums, galleries, and publications on social media!
My biggest advice for building a new body of artwork is to not get so stuck on conceptual ideas that you forget to make the art that you want to make. Ideas often flow along with your process, and you need to find a balance between intellectual thinking and intuitive making.
Website/Blog
sarahcolby.com
Instagram: mscolbyart