JMU's Pre-Law Program involves a network of advisors who can both talk with students about their interest in a legal career and provide advice on the law school application process. Individual advising is the main component of the Pre-Law program. Advising is available on a regular basis throughout the academic year.
Pre-Law students are not assigned to a specific pre-law adviser—students are free to choose and contact any of the individuals from the list of pre-law advisers. While students are encouraged to choose an adviser related to their field of study or law interests, it's often helpful for students to meet with more than one adviser throughout their time at JMU to get different perspectives. 
Schedule an appointment with an adviser whenever you have questions, but particularly early in junior year and throughout the law school application process.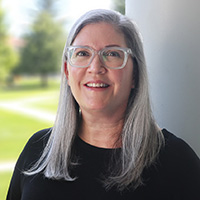 Traci Zimmerman
Interim Dean, College of Arts and Letters Professor; School of Writing, Rhetoric & Technical Communication