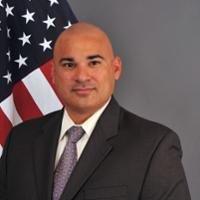 Chief Matos ('95) is a returning Duke who graduated with a BA in Interdisciplinary Social Science.  Chief Matos has more than 26 years of police experience beginning with the Fairfax County Police Department and as Director of the Campus Public Safety Institute in Washington, D.C, part of the Consortium of Universities of the Washington Metropolitan Area.  He possesses law enforcement experience as an operational commander, administrative officer, and has earned a reputation across the region as a well-respected leader.  He began training law enforcement officers in 1998 and continues to the present day.
During his tenure at the Campus Public Safety Institute, he broadened the Academy's instruction to include 21st Century Policing topics such as de-escalation models, the guardian mentality, and compassionate and empathetic service to the community.  In addition, he enabled the Academy to transition from a para-military style of instruction to a more collaborative and team-oriented educational process to the benefit of all stakeholders. He develops police agencies to have innovative police officers who embrace procedural justice, are empowered to build community relationships, and look for opportunites to create a reformed criminal justice system.
In addition to his broad array of law enforcement experiences, he was selected for and completed the University of Louisville's Southern Police Institute, 141st Administrative Officers' Course for Executives, and completed a Master of Arts in Organizational Leadership from the University of Oklahoma.  Moreover, he understands and implements appropriate change management philosophies to deliever on new police-community relations concepts.  He has worked with the Georgetown University Law Center's Innovative Policing Program and was a seven-year member of IACP's International Leadership Instructor's Program, instructing in Saudi Arabia, Canada, and the Carribean, as well as across the United States.  Chief Matos completed the Virginia Association of Chiefs of Police's, Institute for Leadership in Changing Times and their esteemed Professional Executive Leadership School.
Chief Matos subscribes to effectuating organizational justice for his agency through fairness, equity, and cohesion to enable officers to embrace procedural justice tenets, translating to positive officer interactions and relationship building within the university setting and the local community.  He is committed to maintaining the highest levels of integrity, fairness, confidentiality, and professionalism to develop trust in all matters, and believes in leadership principles that promote a high level of motivation, satisfaction, and performance.  Chief Matos is committed to maintaining and enhancing department relationships with students, faculty and staff, and the greater community at-large.