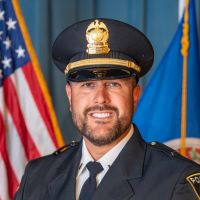 Lt. Hammer began his law enforcement career in 2008 with the Page County Sheriff's Office as a Deputy assigned to the Patrol Division.  In 2010, Lt. Hammer transitioned to the Elkton Police Department as a Patrol Officer.  In 2012 he was promoted to Patrol Sergeant where he was tasked as the Patrol supervisor, Evidence Custodian, Taser Instructor and Driving Instructor.  Lt. Hammer was later promoted to the Chief of Police at EPD where he served for an additional four years.
Lt. Hammer came to the JMU Police Department in 2018 as a patrol officer.  He was later promoted to Patrol Corporal where he was also tasked as the Coordinator over the Cadet Program.  Lt. Hammer was then promoted to Patrol Sergeant in 2019 and took over vehicle ordering and maintenance. 
In October 2022, Lt. Hammer was promoted to his current position where he now supervises the dayshift patrol division. 
A native of Elkton, Lt. Hammer attained an Associates Degree in Criminal Justice from Blue Ridge Community College and currently attends James Madison University.