JMU WOODWIND FEST 2020 HAS BEEN CANCELLED. PLEASE STAY TUNED FOR INFORMATION ON THE 2021 EVENT. 
JMU Woodwind Fest 2020!
Saturday, April 4, 2020
10:00 am - 6:00 pm
James Madison University
School of Music
Harrisonburg, Virginia
♫♫♫
FLUTE ● OBOE ● CLARINET ● BASSOON 
This event is a fun and informative day of flute, oboe, clarinet, and bassoon activities. Some of our day will be instrument-specific, some will be combined woodwind activities. The event is geared towards players of all ages (middle school, high school, and beyond), teachers, band directors, and aficionados!
All events will be held at James Madison University in Harrisonburg, Virginia, in the School of Music and the JMU Forbes Center for the Performing Arts.
Featuring JMU Music Faculty:
Beth Chandler, flute
Jeanette Zyko, oboe
Sarunas Jankauskas, clarinet
Sue Barber, bassoon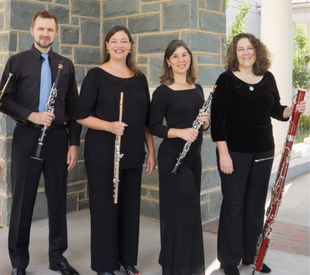 Saturday, April 4, 2020
PRELIMINARY SCHEDULE:
9:30-10:00       Check-In/Registration
10:00-12:00     Masterclasses and interactive workshops—bring your instrument(s)!
12:00-1:15       Lunch on your own (on campus, off campus nearby, or pack your own)
1:15-3:00         Woodwind chamber ensembles, flute choir, clarinet choir—reading sessions and performances! Also, band director/teacher clinics.
3:00-3:30         BREAK/Visit our vendors!
3:30-4:45         More workshops, performances by JMU students, etc.!
5:00-6:00         Faculty Recital, featuring JMU Woodwind Faculty in solos and ensembles
Schedule subject to change. More details will be posted by mid-March.
♫♫♫
REGISTRATION INFORMATION:
Pre-registration fees for students ($10), teachers ($10), and accompanying non-performing adults (free) cover

admission to all events on Saturday, April 4. Pre-registration is open until Monday, March 30, 2020.

Pre-registration forms must be submitted online by this date.

Late or on-site registration will incur an additional $2 fee.

Payment details can be found on the

pre-registration form

.

We offer a group pre-registration discount. See details on the

pre-registration form

.

Each participant must submit an individual form.

Registration and check-in will be on Saturday, April 4, 9:30-10:00 am.
What to bring, etc.:
All participants are encouraged to bring their instruments to participate in workshops, and ensemble reading sessions. Auxiliary instruments (alto and bass flutes, English horn, bass clarinet, etc.) are especially welcome. Please also bring a packed lunch or money to buy lunch. Dress is casual and comfortable.
DIRECTIONS to JAMES MADISON UNIVERSITY:
From the NORTH:
Take I-81 South to Exit 245, Port Republic Rd. At the top of the ramp, make a right at the light to head west on Port Republic Rd.
From the SOUTH:
Take I-81 North to Exit 245, Port Republic Rd. At the top of the ramp, make a left at the light to head west on Port Republic Rd.
Approaching campus on Port Republic Road:
Pass the main entrance to James Madison University on your right and continue over a small hill.

Turn right at the next light (S. Main St./Route 11 North). Continue on S. Main St. for approximately one-half mile.

Turn left at the next traffic light (Warsaw Ave.). If you reach the light at Grace St. you have missed the turn.

Drive straight through the next stoplight and around the back of the Warsaw Ave. parking deck. Then, park on any floor.

Exit the parking deck on the ground level/level 1 towards the Forbes Center, and walk through the viaduct/tunnel, crossing under Main St. Continue up the sidewalk and turn left to reach the Music Building, which is the first building on the left side of the Quad. Proceed through the front doors of the Music Building to join us!
Check out our Facebook JMU WOODWIND FEST event page for regular updates!
For more information: https://www.jmu.edu/music/special-programs/woodwind-fest.shtml
chand2be@jmu.edu ■ (540) 568-6836