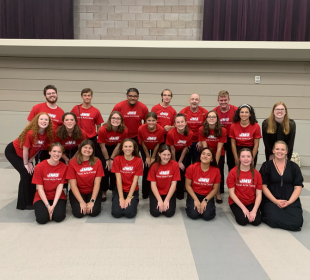 The JMU Vocal Arts Camp will be July 16-20, 2024!
At the JMU Vocal Arts Camp, middle & high school singers who love to sing have the opportunity to share in a summer experience of exciting opportunities in a wide range of music genres and in different settings, including:
solo singing & group voice
classical and contemporary choral singing
musical theater
a capella groups
VAC Annual Talent Show
Festival Showcase Concert in the Forbes Center for the Performing Arts
As always, we will be emphasizing healthy singing and a creative and inclusive camp culture with ensembles and courses taught by professional vocal and choral educators, centered in Kodály/solfege-based developmental music pedagogy.
The JMU Vocal Arts Camp has served the greater Shenandoah Valley and the state of Virginia for many years as a summer choral experience of safety, learning, musical excellence, and community. At Vocal Arts, life-long friendships are forged and authentic, meaningful musical experiences are shared and celebrated!
We look forward to welcoming you to campus in July!
Camp Contact Information
Dr. Jo-Anne van der Vat-Chromy, Director
Elizabeth Aldrich, Camp Administrative Director