Associate Professor, Clarinet
Clarinetist Sarunas Jankauskas enjoys a rewarding performance and teaching career. Most of his professional activities take place at James Madison University in Virginia, where he leads an enthusiastic group of students who major in Music Performance, Education and Industry areas. Dr. Jankauskas joined the School of Music faculty in 2016 and is dedicated to exploring new ways of addressing playing techniques, expanding teaching literature and maintaining a highly positive learning environment.
Jankauskas utilizes clarinet in balanced ways between solo, chamber and orchestral music opportunities. His performance engagements have taken him through Europe, Canada and various parts of the United States. Among many artists and ensembles, he has collaborated with Boulder Chamber Orchestra, St. Petersburg and Jasper String Quartets, pianists Domenico Codispoti and Johan Botes. Jankauskas participated at International Conservatory Week Festival (St. Petersburg, Russia), Musicalis Daunia (Italy), SoundSpace at Blanton, Chamber Music at the Barn, KNOB Festival, Electroacoustic Barn Dance, International Clarinet Association's ClarinetFests®, College Music Society's National Conference and various composer/new music conferences. 
His project Duos focuses on premieres and recordings of newly commissioned works for clarinet and contrasting instrument/voice and will culminate in a full music album in 2020. Also a developing composer, Jankauskas has recently premiered his own work: Four Somewhat Connected Visions for clarinet and saxophone.
Dr. Jankauskas previously taught at Texas Lutheran and Wichita State Universities, in addition to serving as principal clarinetist of the Wichita Symphony Orchestra. He studied at the Academy of Music and Theatre in his native Lithuania, and, after moving to the U.S., received degrees from Grand Valley State University, Rice University and The University of Texas at Austin. Please visit www.sarunasjankauskas.com for more info.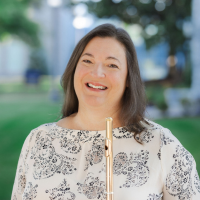 Beth Chandler Cahill, Flute
Professor, Woodwind Area Coordinator
chand2be@jmu.edu
Contact Information
bethchandler.com
Jeanette Zyko, Oboe
Associate Professor
Director of Undergraduate Music Admissions
zykojm@jmu.edu
Contact Information