Instructor, Voice
Dramatic soprano Melissa Montague Sumner Swisher has appeared in opera, oratorio, and recital throughout the United States and Europe. She has performed at the Kennedy Center, Brevard Music Center, Mittelsächsisches Theater Freiberg, Ash Lawn Opera Festival, Staunton Music Festival, Theatre Bristol, Operafestival di Roma, Luray Opera, Union Avenue Opera, Schola Cantorum, Williamsburg Choral Guild, Masterworks Chorus of the Shenandoah Valley, James Madison University Contemporary Music Festival, Waynesboro Symphony Orchestra, and is a MACCO Competition winner. An avid performer and recitalist, she has sung leading operatic roles, including Gretel and Gertrude in Hänsel and Gretel, Lia in Debussy's Enfant Prodigue, and Giorgetta in Puccini's Il Tabarro. In San Francisco she performed the role of La Speranza in Monteverdi's L'Orfeo and Ilia in Mozart's Idomeneo at the Eureka Theatre, singing under the baton of Matthias Kuntzsch. While serving as a guest artist at the University of Virginia, she sang the title role of Suor Angelica, a role which she has performed internationally. Melissa Swisher made her professional operatic debut as Edith in Knoxville Opera's production of The Pirates of Penzance. 
In 2008, Ms. Swisher performed with the Wagner Opera Theater of New York under the baton of David Gilbert, making her Wagnerian debut with orchestra as Gerhilde in Die Walküre at Manhattan School of Music. She later sang Helmwige with Union Avenue Opera in St. Louis under the musical direction of conductor Scott Schoonover. Upon returning to New York, she debuted at Lincoln Center, Symphony Space, The Dimena Center, and Carnegie Hall, performing the roles of Sieglinde, Gerhilde, and Helmwige in Wagner's Die Walküre, under the direction of conductors David Stech and Richard Cordova. In 2021 she appeared with Dramatic Voices Berlin as Die Aufseherin and Die Schleppträgerin in Strauss' Elektra. During the summer of 2022, she will return to Dramatic Voices Berlin to sing Helwige and cover Sieglinde in their production of Die Walküre.
A native of Christiansburg, Virginia, Ms. Swisher is a graduate of Emory and Henry College, and received a Master of Music Degree from the University of Tennessee. In 2015, she graduated with a Doctor of Musical Arts Degree in vocal pedagogy, vocal literature, and vocal performance from James Madison University. In 2021, she returned to JMU to teach for The School of Music and The School of Theater and Dance. Dr. Swisher enjoys teaching singers of all genres, including opera and musical theater. Her studio work revolves around the concept that the body truly is the THE INSTRUMENT. Students in her studio combine the practices of yoga, body mapping, medicine ball/resistance band exercises, mindfulness, awareness, and alignment to explore their bodies and voices, and coordination for maximum results. An emphasis on the WHOLE person and a focus on the energetic breath enables performers to move from complacency to engagement, and a more meaningful performance experience. Dr. Swisher enjoys working with students who have had vocal or physical traumas, and unique voices, such as swischen or dramatic fachs. The most important outcome for any vocal student in the studio should be to find JOY in one's music, performance, and vocal exploration. These are a priority for both teacher and student, as well as vocal health and planning for lifelong careers, whether teaching or performing. Through the breath comes confidence, so working with students who are trying to overcome stage fright, performance anxiety, or trauma is an interest to Dr. Swisher. She also believes that life-long learning must be a priority for teachers and students alike. She continues to coach in New York, take voice lessons, and recently completed a Vocal Symposium with Opera Programs Berlin. She will soon begin work towards an Associate Degree in Biblical Arts at Liberty University at the Rawlings School of Divinity. 
Dr. Swisher currently resides in Staunton, Virginia with her family. Her interest in working with unique and dramatic voices continues to allow her to lead workshops and seminars in energy application and the power of breath in performance. Her students have performed at Operafestival di Roma, BASOTI, Ash Lawn Opera Festival, Opera Roanoke, Summer Musical Enterprise, Mittelsächsisches Theater Freiberg, Spoleto Festival, Shenandoah Valley Bach Festival, Lyric Opera Studio Weimar, CO-OPERATIVE, Berkshire High Peaks Festival, and Luray Opera Theater. Dr. Swisher is the recipient of a Presidential Award for Outstanding Educator by the Virginia Governor's School, and continues to encourage her students to perform in and outside of academia. In her free time, she enjoys traveling, water sports, snow-skiing, and spending time on her farm in the New River Valley.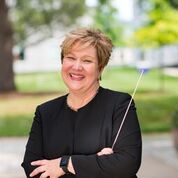 Jo-Anne van der Vat-Chromy
Associate Professor, Director of Choral Activities, Coordinator of Voice Area
vanderjx@jmu.edu
Contact Information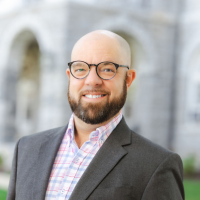 W. Bryce Hayes
Associate Professor, Associate Director of Choral Activities
hayeswb@jmu.edu
Contact Information