Professor, Voice
Soprano Dorothy Maddison received a BM degree at St. Olaf College and her MM and DMA in vocal performance at Arizona State University.  She is professor of voice and opera at JMU where she teaches studio voice, solo vocal literature.
She studied at the Guildhall School of Music and Drama in London and during her professional career in Europe as a lyric-coloratura soprano, she was a full-time soloist with the Stadttheater of Döbeln, Germany, where she performed the roles of Olympia, Antonia, Guilietta and Stella in Les Contes d'Hoffmann, Lucia in Lucia di Lammermoor, Euridice in Offenbach's Orphée aux Enfers, and Susanna in Le Nozze di Figaro. She toured Germany singing Christine in the Yeston-Kopit version of Phantom of the Opera. 
Dr. Maddison is co-author of Kein' Angst Baby!, a book to help singers audition in Germany.  She directs a summer abroad program for singers in Freiberg, Germany through the JMU Office of International Programs, the Middle-Saxony Theater and the Freiberg Technical University.
Her discography includes the CD Christmas Art Songs and Songs for Brenda and Bertha featuring the song cycles ME(Brenda Ueland) by Libby Larsen and Brautlieder by Peter Cornelius., She has performed as a soloist at JMU in oratorio and contemporary music concerts, as well as with the symphony orchestra and band.  Off campus, she has performed in concert, chamber music and oratorio in the USA, England, Germany and for the Vice President of Brazil through the Musica Nos Museo program. Recently she has performed in the Stuanton Festival, as the Mother in Amahl and the Night Visitors in Harrisonburg, and with the JMU symphony band at the Kennedy Center. In 2009 she premiered a staged song cycle based on the life of Marie Curie by Larry Taylor. In 2009-2010 she will be performing the soprano solos Vivaldi's Gloria in Virginia and in Mendelssohn's Elijah in Germany with the Zwichau-Plauen Philharmonic Orchestra, conducted by Christoph Sandmann.  She lives in Harrisonburg with her husband Ian Maddison, a retired radiologist, and their two cats, named Sweet and Sour.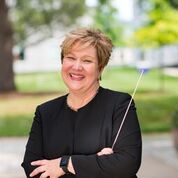 Jo-Anne van der Vat-Chromy
Associate Professor, Director of Choral Activities, Coordinator of Voice Area
vanderjx@jmu.edu
Contact Information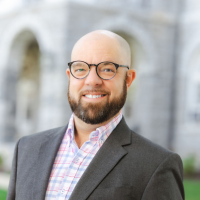 W. Bryce Hayes
Associate Professor, Associate Director of Choral Activities
hayeswb@jmu.edu
Contact Information
Don Rierson
Associate Professor, Director of Opera and Music Theatre
riersodg@jmu.edu
Contact Information