School of Music Area: Music Theatre
The Bachelor of Music degree offers six specialized majors: performance, composition, music industry, music education, jazz studies and music theatre. All music majors must complete the General Education program and a 30 credit hour core program of music courses common to all the majors' curricula. The remaining hours are specified under each of the various majors and concentrations.
All undergraduate music majors must perform on the primary instrument in one assigned ensemble each semester when one or more of the following indicators applies:
They are enrolled for a minimum of 12 credit hours on campus.
They are enrolled for applied lessons on the primary instrument.
They have not completed all of the requirements in the music major.
They are not enrolled in an off-campus internship or in student teaching.
While students are required to participate in only one ensemble each semester, they are encouraged to take advantage of the many performance opportunities offered by the School of Music by participating in more than one ensemble. For information regarding the ensemble audition process, see the Undergraduate Music Student Handbook.
If piano is the primary instrument, see the specific requirements in the Undergraduate Music Student Handbook.
All music students should enroll in class piano each semester until they meet the keyboard skills requirements appropriate to their specific degree or concentration. 
Assessment: First-year music majors must complete the Incoming Music Major Assessment Milestone no later than the first week of classes in the semester in which they matriculate. In February of the calendar year in which they plan to graduate, seniors must participate in assessment activities including assessment day and completion of the School of Music Senior Assessment Milestone. 
Another vital aspect of the programs is attendance at recitals and concerts. Attending these events contributes to the breadth of students' knowledge of music literature. Hearing performances also allows students to observe performing techniques from the student to the professional levels. Consequently, undergraduate music majors must attend a minimum of 10 recitals per semester for six semesters, totaling 60 attendances during their degree studies. Students must continue to register for MUS 195 until they fulfill this requirement.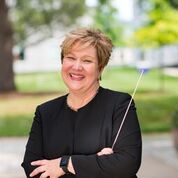 Jo-Anne van der Vat-Chromy
Associate Professor, Director of Choral Activities, Coordinator of Voice Area
vanderjx@jmu.edu
Contact Information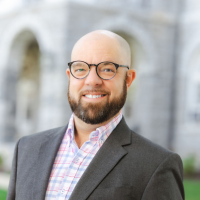 W. Bryce Hayes
Associate Professor, Associate Director of Choral Activities
hayeswb@jmu.edu
Contact Information