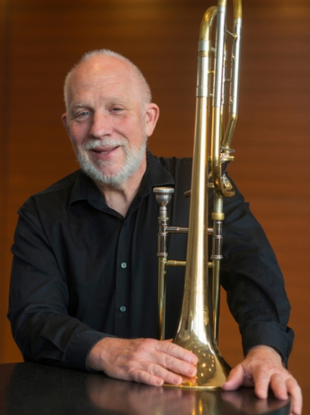 Tom McKenzie
BM in Music Education, 1982

Master of Business Administration, 1994
Interview
What are you currently doing/what is current job?
Well, since most of us introduce ourselves by what we do, I am a Senior Programmer Analyst for Crutchfield, a consumer electronics retailer.
In terms of who I am, I am also very active playing. I am a member of a local funk band, Everyday People. I am a member of Mr Jefferson's Bones, which puts on a big trombone workshop at JMU every January. I play in the Vosbein-Magee Big Band, led by JMU music alums Terry Vosbein and Chris Magee. I play in the Waynesboro Symphony Orchestra and the Valley Wind Ensemble, which is made up largely of local band directors. And last, but certainly not least, I am the Music Director for Just Jazzin', a volunteer big band based here in Harrisonburg
I recently completed my fourth half marathon and will be doing my fifth in Virginia Beach Labor Day Weekend, if my cranky knee holds up.

Do you get back to campus and, if so, how often?
That's kind of a trick question since I have lived in Harrisonburg since 1988, and know most of the music faculty, at least the brass and woodwind faculty. I go to quite a few School of Music events every year at the Forbes Center - probably 30 or so per year. I typically make one or two football games per year.

Are there friends you went to JMU with and haven't been able to keep in contact with?
Regrettably, I have lost contact with most of them. There are a few in the area who I see on gigs fairly often, and a couple more who have stayed in touch through the years. Fortunately, I have been able to reconnect with several the past few years. Some of them have kids at JMU now, some have moved back into the area, and there are a few I was able to reconnect with.

Anything you want to share?  Anything you miss from your college days?
What do I miss from my college days? 10 cent Old Milwaukees at JM's (before MRD rehearsals, I'm embarrassed to admit) and Luigi's pizzeria mainly.
On a serious note, what I would like to share is the importance of giving back, whether to JMU or to some other cause you believe in. I was the first member of my family to attend college and like most blue-collar workers, my parents weren't thrilled with the idea of me majoring in music. But they always supported me and they sacrificed greatly so that I could become a trombone player. To honor them, I have created a trombone scholarship named for them at JMU. While it is hardly a huge scholarship, I know that it has made a difference to the students who have received it. And since I am so close, I get to meet them, hear them play in the ensembles, etc. I get a much greater reward seeing what resources I have go to such a good use than on buying something for myself. The amount you're able to give is unimportant - just the idea of giving up some of what you have to help some organization that makes the world a better place in much more important than the amount