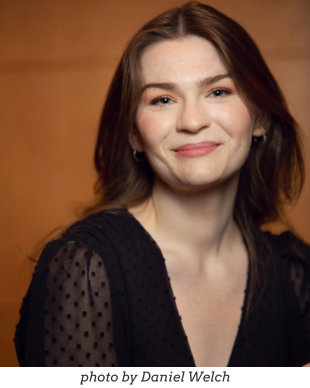 Bachelor of Music with a concentration in Vocal Performance
Class of 2019
---
Cecelia McKinley is currently in her second year as a Cafritz Young Artist at the Washington National Opera (other institutions include Wolf Trap Opera and the Merola Opera Program).
Bio from The Kennedy Center:
Born and raised in Virginia, contralto Cecelia McKinley is ecstatic to return to the Cafritz Young Artists of the Washington National Opera, where she will since Gertrude in the YA performance of "Romeo and Juliet," The Cat/Brother 1/Silk Merchant 2 in "The Lion, the Unicorn, and Me," and Mastrilla in "Songbird." The 2022-2023 season featured her as the 2nd Maid in Strauss' "Elektra." Previously, Ms. McKinley has performed the roles of L'Écureuil in Ravel's "L'Enfant et les sortilèges" as well as Narciso in Handel's "Agrippina." This summer, Ms. McKinley was a Studio Artist with the Wolf Trap Opera, singing the role of Mrs. Ott in Floyd's "Susannah." Ms. McKinley has also participated in the Institute for Young Dramatic Voices under the guidance of mezzo-soprano Dolora Zajick. Equally passionate about concert work, Ms. McKinley has performed as a soloist with members of the Heifetz Orchestra at the Bach Around the Clock Festival and has sung the solos of Mahler's "Symphony No. 2," and Beethoven's "9th Symphony" with the James Madison University, and recently earned her master's degree from the Shepherd School of Music at Rice University in the studio of Dr. Robin Rice. 
---
From Cecelia's applied voice professor at JMU, Dr. Carrie Stevens:
"Cecelia came to the School of Music as an undergraduate Voice student in 2015. She already possessed an unusually large, warm voice with an extensive low register. She was young, but extremely focused on having a career as a classical singer. Cecelia was a particularly thoughtful student who made continual and outstanding progress in my studio to the point that we drew on the expertise of my colleague, Kevin McMillan, to help train this impressive and large-than-life instrument!
She ate up everything that she could from our curriculum and was always hungry for more, delving into the huge catalog of vocal repertoire. She actively searched out information regarding what the career would entail. 
Cecelia won First-Place in the National NATS competition and was given many solo roles in opera and performances with orchestras and choirs, on and off campus, while with the School of Music. She went on from JMU to accomplish a Master of Music Degree at Rice University and was immediately accepted as a Cafritz Young Artist of Washington National Opera. In her first season, she appeared with WNO's production of Strauss' Elektra in the '22-'23 season and will appear with Wolf Trap as a Studio Artist this coming summer. All this in the two-and-a-quarter years after graduating from JMU!
Of great importance is that Cecelia possesses a friendly and open demeanor, is a joy to work with, and is wonderfully supportive of her peers. This is a breath of fresh air when it comes to the competitive world of classical singing!
Given Cecelia's beautiful Contralto voice, intelligence, warm personality, and clear-headed approach to her life as a classical singer, we can only expect to witness her flourish in an international career. 
Sadly, due to her schedule, she was unable to return to JMU this year for a recital and masterclass, but I'm certain that she will be in a position to bring many inspirational stories back to the School of Music in the near future!"
---
Interview with Cecelia:
How did JMU and the School of Music influence and shape your life?
Academically, my time at JMU provided me with a truly solid foundation in music theory and aural training (shout-out to David Newman's aural skills songs!). Though, admittedly, those subjects were not my strongest at the time, I'm incredibly grateful to the professors that met me where I was and encouraged me to improve not only for the sake of grades, but also for musicianship. The past year I have spent a lot of time workshopping and performing new music, and the intensity of those classes have really paid off! Of course, my studio teacher, Dr. Stevens, was always incredibly encouraging of my drive, and consistently reminded me throughout my time at JMU that being a singer is about more than simply sounding perfect; there is so much more to this art form than making pretty sounds!
What are your favorite memories from your time at JMU?
So many! I loved those late nights at IHOP with SAI, watching the MRDs at half-time, and I will never, ever forget singing the alto solo of Mahler 2 with the JMU Symphony Orchestra. That experience was so transformative, it's hard to explain how inspired and encouraged I was by it.
Any additional comments?
Come see the Young Artists of WNO perform Gonoud's Roméo et Juliette at the Kennedy Center on November 17th! Follow my singing adventures on Instagram (@cecelia.mckinley) and GO DUKES!