Alumni Profile: Alex Righter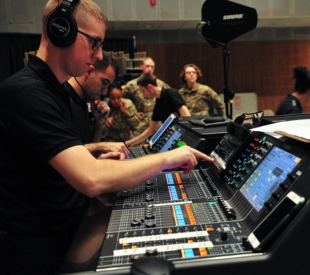 Class of 2010
Bachelor of Music majoring in Music Industry with a concentration in Tuba
Interview
What degree(s) did you earn from JMU?
   Bachelor of Music majoring in Music Industry with a concentration in Tuba
What year did you graduate?
   Spring 2010
What is your current job?
   I am an Audio Engineer for The United States Army Band "Pershing's Own".  I work in the technical support group with thirteen other soldiers. As an audio engineer I rotate around between mixing front of house, monitors, or broadcast mix, recording the ensembles in studio or during concerts, managing RF microphones and in-ear monitors, and helping out wherever else I am needed. I actually work with Jon Seipp who also went to JMU with me.
Before that I worked as a Sound Designer/Mixer for Clean Cuts & Cerebral Lounge post production studio in DC. There I worked on audio content for TV, film, video games, radio, podcasts, and audio books.
Do you ever have a chance to get back to campus?
  I actually came back to campus for a little bit, Summer 2019, to record a string quartet album for Triforce Quartet (two members are also JMU Alumni) at Blue Sprocket Sound (owned by another JMU Alumni) in Harrisonburg. And May 2019, I attended the Phi Mu Alpha-Gamma Alpha 50th Anniversary.
What is your favorite memory from JMU?
  Three things...
One specific event was going on tour with the JMU Brass Band in England and Wales for two weeks 

Competing with the JMU Brass Band at the annual NABBA competitions

And all things MRDs! Especially being tuba section leader for two years. Nothing says fun times like 30 rowdy tubas!
What else would you like to share?
   I really do value the experience I had at JMU. Besides the incredible musicianship I gained from studying with Mr. Stees and playing in ensembles under Mr. Rikkers and Dr. Bolstad, I also created bonds with some of my closest friends. 
   I think for anyone currently studying at JMU, I want to encourage them to take full advantage of all the opportunities that JMU offers (ensembles, clubs, organizations, events...) And if the thing that you are passionate about does not exist, don't be afraid to put the work in to make it happen. You may be surprised with how many other students have a similar interest.