Strategic Leadership Studies Spring 2020 Newsletter
Natasha DuMerville, Ph.D.
Postsecondary Analysis and Leadership Concentration
Dissertation Title: 
An Integrated Developmental Model and Measure of Intercultural Competence
Dissertation Committee:
| | |
| --- | --- |
| Benjamin S. Selznick, Ph.D. (chair)  | Strategic Leadership |
| Karen A. Ford, DSW | Strategic Leadership |
| Melissa Wood Aleman, Ph.D. | Communication Studies, JMU |
| Leah Cox, Ph.D. | Towson University |
Zachary Yoder, Ph.D.
Postsecondary Analysis and Leadership Concentration
Dissertation Title: 
Influence of Remaining Unmet Financial Need on the Persistence Behaviors of Students Enrolled at a Small, Private, Liberal Arts Institution of Higher Education
Dissertation Committee:
| | |
| --- | --- |
| Benjamin S. Selznick, Ph.D. (chair)  | Strategic Leadership |
| Karen A. Ford, DSW | Strategic Leadership |
| Margaret F. Sloan, Ph.D. | Strategic Leadership |
| Scott Barge, E.D.D. | Eastern Mennonite University |
Dara Hall, Ph.D.
Dr. Hall has been promoted as the Executive Director of Teacher Education and Student Success in the College of Education at JMU as of January 2020. Congratulations, Dr. Hall! She has also been serving on university committees including the Academic Affairs Infectious Disease Response Team and the Campus Technology Response Team in response to COVID-19. 
In fall of 2019, Dr. Hall received a 2019-20 Clinical Faculty Grant for $36,148 from the Virginia Department of Education to create early field experience mentorship modules. These modules are currently under development. 
She also presented 2 sessions at the national Association of Teacher Education Conference:
Hall, D. M., Wall, L., Shultz, R. & Conners, A. (2020). Framework for Developing Culturally Competent Clinical Faculty at the Association of Teacher Education Annual Meeting in Atlantic City, NJ
Hall, D. M. (2020). Facilitating Review of CAEP Self-Study Report with Stakeholders at the Association of Teacher Education Annual Meeting in Atlantic City, NJ
Paul Mabrey, Ph.D.
Dr. Mabrey continues to stay active in publishing, presenting research, and service! Here are a few of his accomplishments from spring 2020:
Publication:
Mabrey III, P.E. (2020). Assessing Academic Support Centers: A Framework for Comprehensive Assessment. Intersection: a Journal at the Intersection of Assessment and Learning, (Winter), 17-21.
Recent or upcoming conference presentations:
Britt, L., Goldberg, A., Mabrey III, P.E., Ott, K., Pastor, D., Trull, L., & Whaley, C. (2020, June).  Hacking Civic Learning: Five Programs & Assessment Strategies You'll Wish You Would Have Known About Sooner. Presentation at the Civic Learning and Democratic Engagement Meeting. Minneapolis, MN.
Tonkins, M., Loving, B., Mascarenhas, A., Mabrey III, P.E., Hirsch, G., & Clarke, K. (2020, March). The Intersection between Communication Centers and Navigating University Mandated Requirements: the MREST. National Association of Communication Centers Conference, Clemson, SC (virtual).
Mabrey III, P.E. & Breneman, D. (2020, March). Coaching Students with Anxiety Disorders: Strategies and Resources for Promoting Engagement. National Association of Communication Centers Conference, Clemson, SC (virtual).
Mabrey III, P.E. (2020, March). HIP Tutoring: Exploring Communication Center tutoring as a high-impact practice. National Association of Communication Centers Conference, Clemson, SC (virtual).
 Disciplinary Service:
Co-Editor for Communication Center Journal, started 2020
Reviewer for Journal of Critical Scholarship on Higher Education and Student Affairs, started 2020
Guest Co-Editor for special issue "Civic Education as Transformative Education" in Journal of Transformative Education
Faculty Affiliate for the Cohen Center for the Humanities at JMU
Grant:
Received $40,000 grant from the Colonial Academic Alliance for two year project "CAA Debate for Civic Learning" – extends our curricular, research, and assessment work on using debate-based pedagogy for impacting student civic learning to College of Charleston, Northeastern University, Towson University, University of North Carolina – Wilmington, and William & Mary.
Stephen Lambert, Ph.D.
Dr. Lambert was recognized as Ovrture's 2019 Rookie of the Year! Ovrture is a fundraising communications platform for which Dr. Lambert serves as the System Administrator for Susquehanna University.
Dr. Lambert also passed the Certified Fund Raising Executive (CFRE) exam by CFRE International in January 2020. Congrats, Dr. Lambert!
Paul Morgan, Ph.D. 
Dr. Paul Morgan and colleagues at the University of Utah have been working on a Veterans Studies Certificate program which was approved by the Board of Trustees in January of this year. The University of Utah is one of only four higher education institutions in the U.S. to offer a program of this kind. Dr. Morgan shares more about the certificate program in this article. The program is part of his vision of making the University of Utah "the most veteran-friendly university in the Rockies." Well done, Dr. Morgan! 
Christopher J. Rehm, Ph.D.
Dr. Christopher Rehm is making major moves- literally and figuratively! Dr. Rehm recently accepted a new position as a school administrator in Wuhan, China! Part of his responsibilities will be to create student leader development programming and scaling the program to the global International School Consortium network. Dr. Rehm is also playing a leadership role in launching a nonprofit to scale leader development in K-12 education. Congratulations Dr. Rehm, and good luck with your new position and endeavors!
Ken Newbold, Ph.D. 
Dr. Ken Newbold recently accepted a new position as Provost of Benedictine University in Lisle, Illinois! A news article covering the announcement is available here. Congratulations and best of luck to you in your new role, Dr. Newbold!
Melissa Altman
Ph.D. Candidate, Postsecondary
Melissa Altman will be serving as a Visiting Assistant Professor in the Math and Statistics department here at JMU for the upcoming academic year.
This spring, Melissa was awarded an Innovative Efforts Award (IDEA) grant from the Office of Access and Inclusion to support her dissertation study entitled "Predictors of Organizational Commitment Among Non-Tenure Track Faculty: Mixed Methods Dissertation Research." Congratulations, Melissa!
Johnny Ginnity
 Ph.D. candidate, Organizational Science
Johnny Ginnity was recently selected as the Program Director & Assistant Professor (tenure track) for the Health Service Administration (HSA) program in the College of Health and Behavioral Studies at JMU! His appointments will be effective this coming August. Congratulations, Johnny! 
Boris Escalona Berbetty
Boris Escalona was born in Caracas, Venezuela and moved to Miami when he was 13.  He earned a Bachelor of Arts in Asian Studies and Minor in Business from Florida International University, and a Master of Science in Sustainable Tourism & Hospitality from East Carolina University.  Boris has held administrative roles in higher education for more than 15 years in various academic and student affairs departments at Florida International University, University of Central Florida, University of North Carolina at Chapel Hill, East Carolina University, and James Madison University.  Boris has been at James Madison University since 2019, where he works as Director of Graduate Student Financial Support in The Graduate School.  Boris' research interests include sustainable tourism, educational and cultural opportunities abroad, and higher education and tourism's impact on rural communities.  During his free time, Boris enjoys traveling, Broadway shows, and classical music.
Emily Irungu
Emily Irungu is a restaurant owner and operator from Nairobi, Kenya. She earned her M.B.A. from United States International University of Africa, and a Bachelor of Commerce from the University of Nairobi. Her research interests include the functionality of youth service nonprofit organizations, youth entrepreneurship, and nonprofit finance.
Sarah Mendoza
An Alum of JMU's School of Social Work, Sarah Mendoza could not be more excited to rejoin her alma mater.
Sarah Mendoza spent her first 12 years in various social work positions ranging from community development work in Peace Corps, to child protective services in Texas, Sarah has enjoyed working with and for those who have limited access to resources & information.
Most recently, Sarah has worked with local employers to enhance their employee training programs and improve retention within their organizations. This experience sparked her interest in learning more about leadership and it's impact on the health, culture and outcomes for every organization.
Sarah currently works in the Workforce Services department of Piedmont Virginia Community College. Her research interests include the correlation between leadership and employee retention, and the impact leadership has on Human Resource & Social Service agency missions and outcomes.
Shawn Lough
Shawn Lough is a two-time graduate of James Madison University, earning a B.B.A majoring in Finance in 1995 and an M.B.A. in 2008.  He has 20-years of industry experience within various roles, including Business Analyst, Rating Analyst, Programmer, and Enterprise Systems Manager.  Industry exposure includes manufacturing, property and casualty insurance, and aviation.  In the Fall of 2012, while working in the aviation industry, Shawn accepted an adjunct instructor position within the CIS/BSAN Department in the College of Business at James Madison University.   In this role, he was able to use his industry experience to demonstrate the applicability of computer information systems concepts covered in the course.  In 2016, Shawn left industry to become a full-time CIS/BSAN faculty member at James Madison University.  With his expanded role in academia, he is enjoying the ability to research, implement, and demonstrate contemporary technologies and CIS concepts to provide the students at JMU with the skills needed to succeed in their careers upon graduation.
Shawn is very excited to begin the SSLS Ph.D. program in the Fall of 2020 and eager to apply what he will learn from the SSLS program to his research and approach in the CIS/BSAN classroom.
Brian Smallwood
Brian Smallwood has project managed as a Technical Director and Production Manager for dozens of Off and Off-Off Broadway companies. He co-founded a production company called No Time for Love Productions, with clients like the Ma-Yi Theater Company, New York Musical Festival, New York Photo Festival, and Second Stage. He graduated from the Yale School of Drama in 2013 with an MFA in Technical Design and Production.
Brian is currently an Associate Professor and Production Manager for James Madison University's School of Theatre and Dance. Brian is also a co-founder of the Arts Wellness Group, an organization focusing on studying how wellness can enhance productivity in live entertainment. Brian is also working with Rig for Success, a company focused on generating online content for training riggers in the entertainment industry.
Watch for Brian's book: Productivity Through Wellness for the Live Entertainment and Theatre Technician: Increasing Productivity, Avoiding Burnout, and Maximizing the Value of An Hour slated for release in May 2020.
Eleanor Thompson
Eleanor grew up in a Canadian military family, attending 10 schools in three countries before starting college. After finishing her undergrad degree in Law, Eleanor held different professional roles as a stockbroker, corporate governance professional, and stock plan administrator. Eleanor has two master's degrees including a M.Sc. in Organization Leadership from Regis Unversity and a Master of Liberal Arts from Southern Methodist University.
Eleanor has held her current position in business development since 2014, around the same time she moved to Virginia from Dallas, TX. Eleanor currently resides in Waynesboro, VA with her two cats and enjoys watercolor painting, yoga, photography, crossword and jigsaw puzzles, wine tasting, and cooking.  She also takes piano lessons!
Michael Wawrzyniak
Mr. Mike Wawrzyniak will be joining the Organizational Science and Leadership concentration this fall.  Mr. Wawrzyniak has over 27 years of experience as an Army Officer leading diverse military organizations around the world and developing leaders through experiential learning.  Mr. Wawrzyniak comes to SSLS with an undergraduate degree in Accounting from the University of Wisconsin - Madison, MBA from Syracuse University, an MA in National Security and Strategic Studies from the Naval War College. Mr. Wawrzyniak currently serves as the Director of Army ROTC at the Virginia Military Institute. His research interests include building resilient and cohesive teams, leadership development, organizational performance, and risk management.
SSLS will also be welcoming Matt Barkley, Hannah Johnson, and Tatjana Titareva to the program this coming fall! Congratulations to all of our new students on their acceptance to SSLS! We can't wait for you to join us!
ABD!!!
Nonprofit and Community Leadership
Theresa Reimbold
Kathleen Johnson
Postsecondary Analysis and Leadership
Melissa Altman
Sevinj Iskandarova
Lindsay King
Matt Lovesky
Wendy Lushbaugh
Kyle McCarrell
Michael Speight
Hunter Swanson
Nick Swayne
Organizational Science and Leadership
Tiffany Brutus
Johnny Ginnity
Jim Krauss
Alyse Lehrke
Adam Lindberg
Jalal Maqableh
Andy Miller
Ahmet Shala
Kristin Sowden
LEAD 891 Externship Organization Sites
Dan Finseth
Massachusetts Department of Higher Education
Theresa Lind
Hospitality Management at Penn State University
Guy deBrun
Outdoor Sport Institute
After 24 years of service as a faculty member and administrator here at James Madison University, Dr.  Karen A. Ford is retiring! Dr. Ford has made countless contributions to JMU as an instructor, mentor, advisor, and colleague.
Dr. Ford began her career at JMU in the Department of Social Work in 1996 as an Assistant Professor of Social Work. During her tenure in the Social Work department (1996-2013), "Dr. K" instructed courses, advised and mentored students, and served as an instructor and steering committee member for JMU Outreach & Engagement's Nonprofit Institute.
In 2006, Dr. Ford was asked to join a task force to develop a leadership studies graduate program, and soon after the School of Strategic Leadership Studies was born. SSLS was approved by the JMU Board of Visitors May 2008. Dr. Ford held a dual appointment as Professor of Social Work and Leadership Studies 2009-2013. During this time in SSLS, Dr. Ford served as the Concentration Coordinator for the Nonprofit and Community Leadership concentration, becoming the program's Interim Director in 2013. Dr. Ford was appointed as the Program Director in 2014.
Throughout her career, Dr. Ford has earned many accolades and awards in recognition of her contributions to her discipline and the institutions and organizations she has served. A few of these awards include the Inabel Burns Lindsay Social Work Education Leadership Award (2018, Howard University's School of Social Work), the Woman of Distinction award (2009, James Madison University), the Distinguished Teacher (2005-2006, College of Integrated Science & Technology JMU Social Work), and the Educator of the Year award (2002, Virginia Social Work Education Consortium).
Beyond academia, Dr. Ford has positively impacted communities and nonprofit organizations through board service, consulting, and volunteerism including, but not limited to, Ten Thousand Villages, the Girl Scout Council of Virginia Skyline, Open Doors Thermal Shelter, Roberta Webb Child Care Center, NAACP Harrisonburg/Rockingham Chapter, and the Virginia Interfaith Center for Public Policy.
Dr. Ford has touched countless lives through teaching, collaboration, mentorship, and volunteerism, and friendship, and she has certainly left a lasting mark as Director of the School of Strategic Leadership Studies.
Here's to you Dr. Ford! Congratulations on all you have accomplished during your career through your hard work, dedication, relationship-building, authenticity, and the many, many laughs you have shared with your students and colleagues along the way. Although we know you will be living your life to the fullest in your retirement, you will be missed by SSLS sorely. Thank you for all of your hard work, the great memories and lasting legacy you will leave behind. SSLS would not be SSLS without you. Cheers and congratulations! I think this calls for a Blue Chair photo.
Dr. Margaret F. Sloan
Dr. Sloan to Serve as SSLS Interim Director
Following Dr. Ford's retirement, Dr. Sloan will be serving as the SSLS Interim Director for the 2020-2021 academic year. Dr. Sloan has been a SSLS faculty member since 2012, instructing courses, advising students, and serving as the Concentration Coordinator for the Nonprofit and Community Leadership Concentration. Dr. Sloan has been instrumental in furthering the development of the SSLS curriculum over the last two years and launching the first-ever Leading Change Conference (#LEADCC19), all while remaining active in scholarship, research, and several community engagement projects. Congratulations on your new appointment, Dr. Sloan!
Community Engagement 
In early March, Dr. Sloan was featured on WHSV News speaking on the Rural Engagement and Capacity-building Hub (REACH) Community Meetings project. The REACH project is a collaborative initiative among SSLS and JMU's Nursing, Social Work, and Community-Service Learning departments. The project seeks to serve agencies, students, institutions and community members to build capacity in reaching community goals for healthcare and wellbeing in rural areas within the JMU service area. The project was made possible by a Faculty Senate Mini-Grant. 
Unfortunately, this project was disrupted by COVID19. Plans are in the works to adapt the project to a social-distancing friendly delivery. 
Scholarship
Charles, C., Sloan, M. F., & Schubert, P. (2020). If Someone Else Pays for Overhead, Do Donors Still Care? The American Review of Public Administration. https://doi.org/10.1177/0275074020913989
Dr. Adam J. Vanhove
Dr. Vanhove Promoted to Associate Professor for Upcoming Academic Year
Dr. Vanhove will be promoted to Associate Professor of Strategic Leadership Studies this fall! Congratulations, Dr. Vanhove! Dr. Vanhove has been with SSLS since fall 2015. 
Conference Presentations
Dr. Vanhove had two papers accepted for presentation at the Academy of Management annual conference this coming August in Vancouver!
 Vanhove, A. J., & Kedharnath, U. Can anyone lead and follow? Leader and follower role expectations among supervisors and subordinates. Submitted as a paper presentation to the 2020 Academy of Management annual conference, Vancouver, BC, August 7-11, 2020.
 Vanhove, A. J., LeNoble, C., & Fisher, D. M. Individual and team resilience: An integrative perspective. Submitted as a paper presentation to the 2020 Academy of Management annual conference, Vancouver, BC, August 7-11, 202.
Awards & Recognitions
Dr. Adam Vanhove's collaborative article Same‐gender and same‐race bias in assessment center ratings: A rating error approach to understanding subgroup differences made the International Journal of Selection and Assessment's top ten list for most downloads in 2019! Co-authors for the publication were George C. Thornton III (Colorado State University), Deborah E. Rupp (Purdue University), and Alyssa M. Gibbons (Colorado State University).
 Citation:
Thornton, GC, Rupp, DE, Gibbons, AM, Vanhove, AJ. Same‐gender and same‐race bias in assessment center ratings: A rating error approach to understanding subgroup differences. Int J Select Assess. 2019; 27: 54– 71. https://doi.org/10.1111/ijsa.12229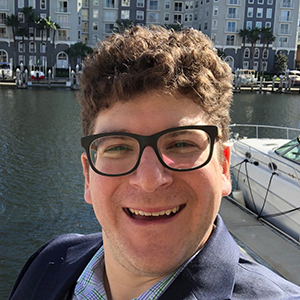 Dr. Ben Selznick
Research Activities
Dr. Selznick is currently conducting research for his project "Making Space for Diversity Through JMU X-Labs Courses." Dr. Selznick was awarded a Provost's Faculty Diversity Curriculum Development Grant to conduct this study which seeks to improve the delivery of JMU X-Labs courses. 
Conference Acceptances & Service
Dr. Selznick is serving on the 2020 ASHE Conference Planning Committee! This year's conference will be held in New Orleans, Louisiana (hopefully!).