Who are we?
The Community Leadership Course for Veterans (CLCV) is a 4-month experience for veterans of all ages in the Harrisonburg/Rockingham community! Comprised of veterans and veteran affiliates, the program is designed to help veterans come together in the civilian world and foster their drive to impact their local community in a variety of ways.
Looking for a way to get involved?
CLCV is currently recruiting participants for the Spring 2023 cohort!
Participation includes:
7 in-person meetings from February-May 2023
Up to $500 to complete your own Community Impact Project
A built-in network of like-minded veterans, students, and professionals
A Certificate of Completion awarded during the last session
Complimentary meals and refreshments at each course session
Spring 2023 courses will be held on alternating Wednesdays from 6:00-7:30 pm in Lakeview Hall, room 1102. The first group meeting will be on February 8th, 2023. 
Questions about the program?
Email Kira Lambert at lambe2ks@jmu.edu to learn more about CLCV and sign up as a Spring 2023 participant. 
Register by March 1st to become a part of the newest cohort of veteran leaders!
Program Overview
Course Vision: In CLCV, veterans will enhance their practical knowledge on community leadership. Strategies for engaging with the veteran community will be learned and applied in course activities such as a simulation in navigating community issues. 
CLCV will provide a space for veterans not just to learn about community leadership, but to practice it through the creation of their own Community Impact Project. Participants will expand their personal and professional networks by engaging with other veterans and veteran-affiliates in the community.
Session Topics: This spring, CLCV sessions will cover topics such as leadership from the military to college and civilian life, networking with veteran-owned community businesses, identifying and combatting imposter syndrome, and more. 
A brief (15-20 minute) introduction to each session topic will be given by a community expert. Discussions will be facilitated by a community veteran guest.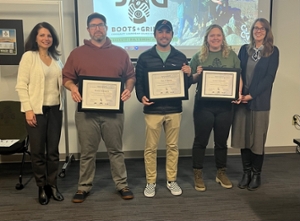 Community Impact Projects: CLCV participants are awarded up to $500 to develop and execute a community impact project of their design. Community Impact Projects (CIPs) can take on many forms, but are typically short-term campaigns or event series involving the veteran community in some way. 
The Fall 2022 cohort developed their CIP collaboratively, resulting in Boots + Grinds, a series of coffee and hiking get-togethers for veterans in the Harrisonburg/Rockingham area. Their work was featured in an article by JMU's Communications and Marketing team, and they hope to host a final event in the Spring.