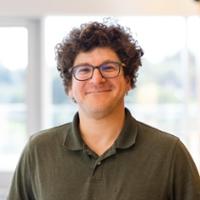 Dr. Selznick studies how colleges and universities can develop student innovators and the conditions that support such development. He lso engages scholarship on leadership in complex learning organizations, college student experiences, and the uses of contemporary methodologies.
Dr. Selznick currently serves on the editorial review board for Innovative Higher Education and contributes service to the Association for the Study of Higher Education (ASHE), American Educational Research Associaiton (AERA), and International Leadership Association (ILA). He is also the chair of the 2023 Leading Change Conference, set to take place at JMU in February 2023.
Education
Ph.D., Higher and Postsecondary Education, New York University
M.A., Higher Education and Student Affairs, New York University
B.A., Religion, Dartmouth College
Research Interests
Higher education leadership
Innovation
Applied learning
College student experiences
Mixed-methods research
Recent Publications
Selznick, B. S., Mayhew, M. J., Winkler, C. E., & McChesney, E. T. (2022). Developing innovators: A longitudinal analysis over four college years. Frontiers in Education. https://doi.org/10.3389/feduc.2022.854436
Selznick, B. S., Mayhew, M. J., Dahl, L. S., & Rockenbach, A. N. (2021). Developing appreciative attitudes toward Jews: A multi-campus investigation. Journal of Higher Education, 93(2), 297-325. https://doi.org/10.1080/00221546.2021.1990632
Selznick, B. S., Dahl, L. S., Youngerman, E., & Mayhew, M. J. (2021). Equitably linking integrative learning and students' innovation capacities. Innovative Higher Education, 47(1), 1-21. https://doi.org/10.1007/s10755-021-09570-w.
Selznick, B. S., Mayhew, M. J., Zhang, L., McChesney, E. (2021). Creating an organizational culture in support of innovation education: A Canadian Case Study. Journal of College Student Development, 62(2), 219-235. DOI: 10.1353/csd.2021.0018
Selznick, B. S., & Titareva, T. N.* (2022). Postsecondary administrative leadership and educational AI: A shared ethical approach. In F. A. Menendez et al. (Eds.), Strategy, policy, practice, and governance for AI in higher education (pp. 73-100). IGI Global.