How can ICAD help me?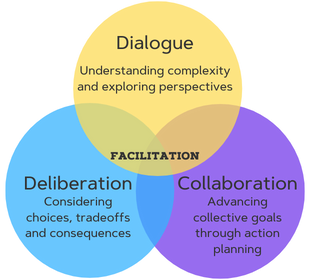 Designing and Facilitating Processes 
Our core service purpose is to design and facilitate innovative and creative ways for nonprofit organizations, local governments, advocacy groups, community coalitions, and university offices and organizations to talk and problem-solve together in productive ways.  We design these processes to meet specific needs for dialogue, deliberation, decision-making, and collaboration.
While we prioritize working with groups and organizations that are focused on broad community outcomes, we also work with organizations interested in designing and implementing strategic discussions about their mission, values, and goals.
Building Capacity through Facilitation Training
ICAD does more than facilitate productive talk – we build the capacity of others to do the same. Through training and education, we help people increase their own knowledge and skills for improving the quality of communication around them.  Doing so expands our collective abilities to address the complex issues facing our communities, our nation, and our world.
Toward this end, we offer undergraduate and graduate courses at James Madison University that help students gain insights and skills for supporting productive talk. In these classes, student receive the opportunities to experience, design and facilitate conversations aimed at understanding and addressing important public issues, both on campus and in our communities.
ICAD also offers both online and in-person training workshops for non-student individuals interested in developing their facilitation skills.
Interested in finding out whether we can help you? Contact us at ICAD@jmu.edu