"There are no shortcuts to any place worth going." – Anonymous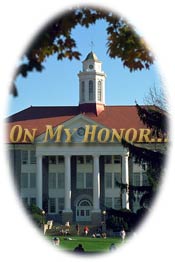 As the Honor Council at JMU, we endeavor to promote academic and personal integrity in all aspects of university life.
Only by instilling and maintaining a strong sense of honor can the university and its students reach their full potential.
Our Mission Statement
The James Madison University Honor Council is committed to instilling, promoting, and upholding individual and collective academic integrity.
Faculty who need to report an Honor Code Violation should refer to the Reporting a Violation flow chart for instruction in steps they need to take.
NOTE: Informal resolution forms can still be dealt with between the reporting faculty member and accused student by communicating/agreeing via email and then submitting the form to the Honor Council electronically (honorcouncil@jmu.edu). If the student is non-responsive or refuses to sign the informal resolution, then the case would be automatically elevated to/submitted as a formal investigation.
Formal violation reports can still be submitted via honorcouncil@jmu.edu. Please note that a formal investigation will likely not occur until the start of the fall semester given the current circumstances and limited resources/personnel availability.