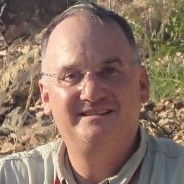 Research Description
My research interests are at the intersection of paleontology with stratigraphy and geochemistry using conodont microfossils. Only the small tooth-like elements, composed of calcium phosphate, of conodont animals are usually preserved, which makes understanding the paleobiology of these extinct eel-like creatures challenging. My students and I use conodonts to determine the age of the rocks that contain them, and we study the oxygen and carbon isotopes in the conodonts and the rocks to interpret paleoclimate.
Courses
GEOL 110: Physical Geology

GEOL 350: Paleobiology

GEOL 399: Field Geology

GEOL 400: Geology and Ecology of the Bahamas
Education
PhD in Geology, 1995, The Ohio State University
MS in Geology, 1990, University of Idaho
BS in Geology, 1988, Bowling Green University
Select Publications
Myrow, P.M., Fike, D.A., Malmskog, E., Leslie, S.A., Singh, B.P., Chaubey, R.S., and Prasad, S.K., 2018. Ordovician–Silurian boundary strata, Spiti Valley region of the Indian Himalaya: Record of the latest Ordovician Boda Event GSA Bulletin DOI: 10.1130/B31860.1.
Leslie, S.A., Goldman, D. and Orndorff. R.C., (eds) 2015. 12th International Symposium on the Ordovician System, Short Papers and Abstracts, Stratigraphy 12(3-4): 288p. DOI: 10.2110/sepmord.015.
Quinton, P.C., Law, S., MacLeod, K.G., Herrmann, A.D., Haynes, J.T., and Leslie, S.A., 2017. Testing the Early Late Ordovician cool-water hypothesis with oxygen isotopes from conodont apatite, Geological Magazine DOI: 10.1017/S0016756817000589.