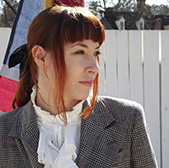 Office
Keezell 420
Spring 2023 Office Hours
M/W 11am-12pm, 3-4pm and by appointment

Education
Ph.D.  University of Maryland, College Park  (French Studies)
Research Interests
18th and 19th Century Literature, Theatricality outside Theater, Performance, Art History, Orientalism, Decadence, Marquis de Sade, Marie Antoinette, Pop Culture.
Publications
Articles
2017
"Sexe, performance et techniques de spectacle dans le récit libertin" in Dix-huitième siècle: "Une Société de spectacle", N.49, pp.311-324
2014
"Marie Antoinette, icône suprême du marketing au XXIe siècle". La Révolution française et le monde d'aujourd'hui: mythologies contemporaines. Paris, Éd. Garnier, Série Le dix-huitième siècle, pp.345-357
2013
"Le roman libertin illustré au XVIIIe siècle : un sous-produit paradoxal ?" Économies du rebut : Poétique et critique du recyclage au XVIIIe siècle. Éd. Florence Magnot et M. Poirson. Paris, Éd. Desjonquères

2012
"De la machine à jouir à la machine littéraire : tours et détournements sadiens." Sade : sciences, savoirs et invention romanesque. Éd. Alexandre Wenger. Paris, Éd. Hermann, pp.79-95

2009
"Jouer la parade au XXIe siècle: (Ré)Inventer Léandre." Restitution et création dans la remise en spectacle des oeuvres des XVIIe et XVIIIe siècles. Éd. Jean-Noël Laurenti. Paris, Centre de Recherche sur les arts du spectacle aux XVIIe et XVIIIe siècles, pp.55-77

2009
"Comment adapter les oeuvres de Sade? Le point de vue d'un maître espagnol de l'érotisme et de l'horreur." Entretien avec le réalisateur Jesus Franco Manera. Filmer le dix-huitième siècle. Éd. M.Poirson et L. Schifano. Paris, Éd. Desjonquères, pp.98-108

2009
"Sade au prisme du cinéma étranger." L'Ecran des Lumières/Les Lumières à l'écran. Éd. Laurence Schifano and Martial Poirson. Studies on Voltaire and the Eighteenth Century (SVEC), Oxford, Voltaire Foundation

Critical Edition
2006
Contribution (Title page credit) to Parades: Léandre eunuque, Le Mauvais Exemple, L'Ambassadeur de Perse. By Guy Spielmann. Paris, Lampsaque, coll. "Le Studiolo."