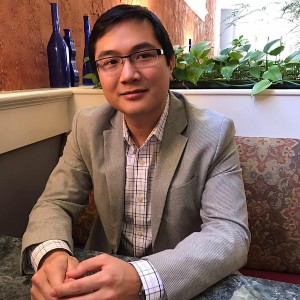 Office: Keezell 201 
Phone: (540) 568-1640 
Fall 2023 Office Hours:
Mondays & Wednesdays, 1:00-2:00pm on Zoom and by appointment

Website: https://www.dennishlo.com
Specialization: 
Cultural studies of global cinemas, cultural geographies of film and media, Chinese-language cinemas and location shooting practices, film and media representations of space, place, and social change, global film and media aesthetics and industries, film and media production cultures (ethnographic and discursive approaches)

Education:
Ph.D., Film and Television (Cinema Studies), School of Theater, Film, and Television,  University of California, Los Angeles (UCLA), 2015
M.S., Applied Physics, Columbia University, 2009
Dual B.A.S. (with distinction and departmental honors), Film and Media Studies & Physics, Stanford University, 2008
Bio:
Dennis Lo is an Associate Professor of Global Cinemas in the English Department at James Madison University. He received a Ph.D. in Cinema Studies at UCLA in 2015, and currently teaches histories of global cinema, film and media theories, media industries, and transnational authors and genres, with a specific focus on Chinese-language cinemas. His research explores the intersections of Chinese-language film aesthetics, film authorship, location shooting, media anthropology, cultural geography, and cinematic ecocriticism.

He is the author of The Authorship of Place: A Cultural Geography of the New Chinese Cinemas (Hong Kong University Press, 2020), the first monograph dedicated to the study of the politics, history, aesthetics, and practices of location shooting for Taiwanese, Mainland Chinese, and coproduced art cinemas shot in rural communities since the late 1970s. His work has also been published as a chapter in Production Studies, The Sequel!, as well as in numerous refereed journals, including New Cinemas, Film-Philosophy, and Asian Cinema.

Prior to teaching at James Madison University, Dennis Lo taught Introduction to Film and Introduction to Mass Media in the Department of Communication at the County College of Morris. He has also served for five years as an editor with Mediascape, UCLA's Department of Film, TV, & Digital Media's online and peer-reviewed journal, as well as moderated and translated at prominent events in UCLA featuring guest film directors from Asia.

In his spare time, Dennis Lo is an avid filmmaker and videographer. His creative works explore the multifaceted experiences of place by transnational subjects and include four short documentaries and a feature length docudrama that won critical acclaim for its use of cinematography at the Stanford Student Film Festival.


Books:
The Authorship of Place: A Cultural Geography of the New Chinese Cinemas (Hong Kong University Press, 2020)
Book Chapters:
"From Experiencing Life to Life Experiences: Location Shooting Practices in Chinese and Taiwanese New Wave Cinemas." Chap. 15 in Production Studies, the Sequel:  Cultural Studies of Global Media Industries, edited by Miranda Banks, Bridget Conor,  and Vicki Mayer, 187-195. New York, NY: Routledge, 2016.
Peer-Reviewed Essays:
"Rural geographies and the New Chinese Cinemas: Imaging progressive places in Hou Hsiao-Hsien's Dust in the Wind and Jia Zhangke's Platform." New Cinemas: Journal of Contemporary Film 17(2) (2020). 

"A Blueprint for (Im)possible Places: Narrative Crisis in Antonioni's L'Eclisse (1962)." Film-Philosophy 19 (2015).

"Grounded Flights: Managing Migrant Movement in Jia Zhangke's The World." Studies in  the Humanities 39, no. 1-2 (January 2014): 163-192.
"The Generation Without Homesickness: An Interview with Director Zhang Teng-Yuan on Crossing the Sentimental Desert (2011)." Mediafields 5 (2012).

"Marginalized Sexuality in Tsai Ming Liang's Cinema." Amerasia 37, no. 2 (2011): 96-102.
"Emergent National Discourses: Mythmaking and the National Story in Taiwanese Roadtrip Films." Asian Cinema 21, no. 1 (2010): 86-112.
"The Politics and Aesthetics of 'Asian American' Sexuality in Ang Lee's Cross-Cultural Family Dramas." Stanford Journal of Asian American Studies 1 (2008).
Translations:
"Interview with Tsai Ming Liang," Amerasia 37, no. 2 (2011): 103-117.
"Paving the Way for a Film City: Roundtable Discussion between Olivier Assayas, Hou Hsiao Hsien, Wong Yeh Ming, and Lee Yung Ping," Taiwanese Film Notes (2008).
Other Publications:
"Coming of Age in Media/Cultural Studies: Critical Approaches." Mediascape  (Winter 2010).
"Music and Sound in Taiwanese Youth Films." Featured Article on Taiwan Film Festival 2008 Pamphlet. Stanford Dept. of Art History and Center for East Asian Studies.