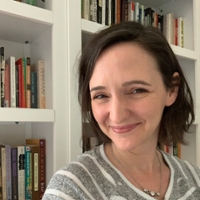 Associate Professor  
godfrema@jmu.edu 
Contact Info 

Office: Keezell 213
Fall 2023 Office Hours:
Monday/Wednesday, 2:00 PM – 3:00 PM over Zoom
Please book in-person appointments through the scheduling software Calendly: https://calendly.com/godfrema/officehours 
Specialization
African American Literature; African, African American, and Diaspora Studies; Black Feminisms; Black Print Culture; Afrofuturism, Black Comics, and Film; Public and Digital Humanities

Education
Ph.D., English, University of Chicago, 2010
M.A., English, University of Chicago, 2004
B.A., English, Reed College, 2001

Books and Edited Volumes
Conversations with Lorraine Hansberry. Editor. University Press of Mississippi, 2020. Awarded Honorable Mention in the biennial MLA Prize for Collaborative, Bibliographical, or Archival Scholarship, 2020–21.
Neo-Passing: Performing Identity after Jim Crow. Co-editor, with Vershawn Ashanti Young. University of Illinois Press, 2018.
Articles and Book Chapters
"Race, Space, and Celebrating Simms: Mapping Strategies for Black Feminist Biographical Recovery." Co-author, with Seán McCarthy. a/b: Auto/Biography Studies (October 2022). DOI: https://doi.org/10.1080/08989575.2022.2130251. Rpt. in Mapping Black Women's Lives, special issue of a/b: Auto/Biography Studies (Forthcoming 2023). 
"Facts and Fictions: Imperium in Imperio and the Politics of Early Black Speculative Fiction." Afrofuturism: Past, Present, and Beyond, special issue of CLA Journal 65.1 (March 2022): 8–22. 
"Getting Graphic with Kindred: The Neo-Slave Narrative of the Black Lives Matter Movement" in Slavery and the Post-Black Imagination. Edited by Bertram D. Ashe and Ilka Saal. University of Washington Press, 2020. 83–105. Volume awarded Honorable Mention in the MLA Prize for Edited Collections, 2019–20.
"Sheep, Rats, and Jungle Beasts: Black Humanisms and the Protest Fiction Debate." Arizona Quarterly 74.2 (Summer 2018): 39–62. Winner of the 2019 David D. Anderson Award for Outstanding Essay in Midwestern Literary Studies.
"Passing as Post-Racial: The Human Stain, Political Correctness, and the Post-Racial Passing Narrative." Contemporary Literature 58.2 (Summer 2018): 233–261.
"Introduction: The Neo-Passing Narrative." Co-author, with Vershawn Ashanti Young. In Mollie Godfrey and Vershawn Ashanti Young (eds.), Neo-Passing: Performing Identity after Jim Crow. Champaign, IL: University of Illinois Press, 2018. 1–40.
"Celebrating Simms: Multiplying the Single Story in Community Engagement Projects." Co-author, with Seán McCarthy. Public: A Journal of Imagining America, 4.2 (Winter 2018). 
"Making African American History in the Classroom: The Pedagogy of Processing Under-Valued Archives," Pedagogy: Critical Approaches to Teaching Literature, Language, Composition, and Culture 16.1 (January 2016): 165-177.
"Of One Blood: Humanism, Race, and Gender in Post-Reconstruction Law and Literature," CLA Journal 59.1 (September 2015): 47–74. Winner of the 2017 Pauline Hopkins Society Memorial Scholarship Award for outstanding scholarship on Pauline Hopkins.
"Rewriting White, Rewriting Black: Authentic Humanity and Authentic Blackness in Nella Larsen's 'Sanctuary,'" MELUS 38.4 (December 2013): 122–145.
"'They ain't human': John Steinbeck, Proletarian Fiction, and the Racial Politics of 'The People,'" MFS Modern Fiction Studies 59.1 (Spring 2013): 107–34. Rpt. in Bloom's Modern Critical Views: John Steinbeck, New Edition. Ed. Harold Bloom. New York: Infobase Learning, 2014. 
Review Essays
"Lorraine Hansberry and the Practice of Freedom," Review essay on Radical Visions: A Biography of Lorraine Hansberry by Soyica Diggs Colbert (Yale UP, 2021), Resources for American Literary Study 43:1–2 (2021): 224–29.
Review essay on Sensational Flesh: Race, Power, and Masochism by Amber Jamilla Musser (New York UP, 2014), ALH Online Review Series V (5 January 2016).
"'White-Life' Literature Reconsidered," review essay on Abandoning the Black Hero: Sympathy and Privacy in the Postwar African American White-Life Novel by John C. Charles (Rutgers UP, 2012), Twentieth-Century Literature 60.3 (Fall 2014): 397-404.
Web Publications
"Key Works: A Raisin in the Sun." Gale Literature Resource Center (Forthcoming 2023).
"One of the Most Banned Books of All Time: Maya Angelou's Memoir I Know Why the Caged Bird Sings." TED-Ed: Lessons Worth Sharing (21 February 2023).
"The Hansberry Interviews." NYPR Archives & Preservation. WNYC.org. 21 January 2021. Web. 29 January 2021.
Public and Digital Humanities Projects
Mapping the Black Digital and Public Humanities, with Seán McCarthy and Iliana Cosme-Brooks, 2022–Present  
Celebrating Simms: The Story of the Lucy F. Simms School, with Seán McCarthy, 2015–Present   
Black Studies, Black Spaces at JMU, with Besi Muhonja, 2019–2021 
Furious Flower Digital Archive: A Prototype, with Joanne Gabbin, Seán McCarthy, Mary Beth Cancienne, and David Hardy, 2019  
NAACP Maine Archives, 2012 
Work in Progress 
Brave Humanisms: Black Women Writers and the Fictions of Segregation (book project) 
A Miserable Revenge: A Story of Life in Virginia (ca. 1876–77), by George A. Newman, Sr., coedited with Brooks Hefner, Jeslyn Pool, and Evan Sizemore (digital publication) 
Selected Fellowships and Grants
NEH Summer Stipend, National Endowment for the Humanities, 2023 
Faculty-Senate Madison Vision Mini-Grant Award, James Madison University, with Seán McCarthy, 2016; with Seán McCarthy, 2023 

Virginia Humanities Rolling Grant, with Brooks Hefner, 2022
Edna T. Shaeffer Humanist Award, James Madison University, 2017; 2020
Virginia Humanities Open Grant, with Seán McCarthy, 2020
Provost's Faculty Diversity Curriculum Development Grant, James Madison University, with Brian Flota, 2017; with Besi Muhonja, 2019
College of Arts and Letters Mini-Grant, with Seán McCarthy, James Madison University, 2019
Innovative Diversity Effort Award Program Grant, James Madison University, with Seán McCarthy, James Madison University, 2015-2016; with Brian Flota and Kate Morris, , 2018-2019
Provost's Faculty Development Support Award, James Madison University, 2018
Faculty-Senate Madison Vision Mini-Grant Award, with Seán McCarthy, James Madison University, 2016
Maine Humanities Council Community Outreach Grant, 2012
Harward Center Grant for Publicly Engaged Academic Projects, Bates College, 2010–2011, 2011–2012
Center for the Study of Race, Politics and Culture Teaching Fellowship, University of Chicago, 2009–2010
Blair Dissertation-Year Fellowship, University of Chicago, 2007–2008
Norman Maclean Teaching Fellowship, University of Chicago, 2006–2007
Selected Honors and Awards
Roberts Endowment for Faculty Excellence Award, James Madison University, 2023 

Honorable Mention, MLA Prize for Collaborative, Bibliographical, or Archival Scholarship, Modern Language Association, 2020–21

David D. Anderson Award for Outstanding Essay in Midwestern Literary Studies, Society for the Study of Midwestern Literature, 2019
Women's and Gender Studies Award for Feminist Scholarship and Creative Work, with Seán McCarthy, James Madison University, 2017
Outstanding College-Community Project Award, Coalition for Community Writing, with Seán McCarthy, 2017
Pauline Hopkins Society Memorial Scholarship Award, Pauline Elizabeth Hopkins Society, 2017
Harward Center Faculty Award for Outstanding New Community Partnership Initiative, Bates College, 2012