Main Campus Information
Madison Union consists of three connected buildings (Warren, Taylor, Grafton-Stovall) with fully mediated rooms that are suitable for a variety of events:
Transitions room is a room with a capacity of 200.
Warren Rm. 403 is a boardroom that can accommodate 18 people. The room has a gorgeous view of the Village Area.
Taylor has 12 meeting rooms with capacities ranging from 13 to 120.
Taylor also has Taylor Down Under (TDU), a large lounge with a stage area. The seats can be rearranged for an event.
Grafton-Stovall is a 560-seat full-service auditorium with a stage. It also serves as the campus movie theater with digital or 35mm projection.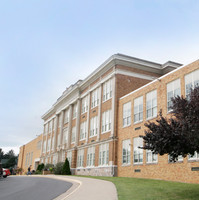 Memorial Hall is located just down the street from the Bluestone Area. This former high school consists of 5classrooms, each seating 40–49, and an auditorium that can seat up to 1,045. With ample parking and multiple meeting spaces, Memorial Hall can be the ideal choice for a single-day conference or a series of workshops.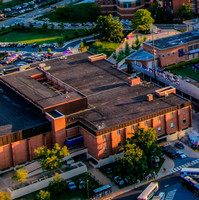 Godwin Hall, located mid-campus, offers classroom space that can hold between 20-90 people and is home to SinclairGymnasium, a 5,000-seat multi-purpose gym. It also houses the Savage Natatorium, an Olympic-size swimming pool with seats for 800 spectators.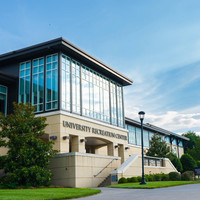 The University Recreation Center (UREC), our 140,700-square-foot recreational facility, earned national recognition for its unique architecture and design. This state-of-the-art center includes:
7 Racquetball Courts, 5 Gyms, 2 group fitness studios & 2 Meeting Rooms
Indoor Pool, indoor track
Courtyard and Sand Volleyball Court
Free weights, weight machines, cardio equipment, and climbing wall
Outdoor Turf Fields (Upper and Lower)
Guests can choose to schedule a group activity or allow conference participants to pay individually for each use. Sports equipment rentals and various gym setups are available. Minors are required to sign a waiver and be present with a chaperone.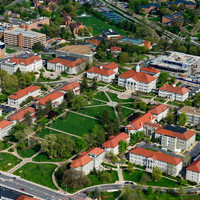 The Bluestone Area contains housing, meeting, and dining facilities. The Wilson HallAuditorium, and academic buildings; Burruss, Moody, Roop, Miller, Harrison, and Keezell Halls are located in the Bluestone Area. Classrooms here range from 20 to over 150 in capacity.
Wilson Hall has an auditorium with a capacity of 1,300, including balcony seating. The floor seating has a downward slant to improve visibility from any location in the venue. The front stage is 60 x 21 feet with an optional 13-foot extension. At the head of the Bluestone quadrangle, this central facility accommodates a range of events, from speaker presentations to theater performances. Just outside of this quadrangle of buildings is the Main Campus dining facility, DHall.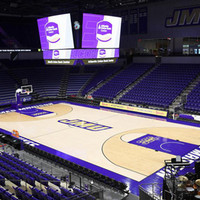 JMU Festival Conference and Student Center has the greatest variety of meeting room sizes on campus, including the Grand Ballroom and a dining area equally suited to host a buffet for hundreds or a small catered meal. Seating capacity ranges from 16 to over 1,000 depending on the room setup. East Campus is also home to the Atlantic Union Bank Center. Recently opened in November 2020, the Atlantic UnionBank Center is the new home of the JMU men's and women's basketball programs. The Atlantic Union Bank Center can accommodate up to 8,500 guests. It also holds a multitude of events for students, such as student org night, the annual homecoming concert event, and other events for first-year students during weeks of welcome.
This venue is available during certain summer dates for conferences to book.
Additional Classroom Support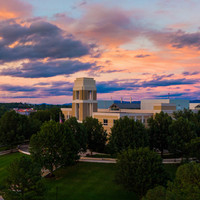 King Hall houses Integrated Science and Technology (ISAT) and is located at the highest point on campus. King Hall has one of the best views on campus and can serve as a meeting and classroom space. There is a large foyer area at the front of the building that can accommodate 50 people. Classroom sizes range from 30 to 160 people. The Engineering and Geosciences (EnGeo) building is connected to King Hall and is a 3-story building of 24 classrooms ranging from 20 to 50 seats, two auditoriums seating over 150, and one auditorium seating over 300. Each room provides an excellent space for seminars, presentations, and any other sort of educational experience.
All rooms are equipped with at least one PC, data projector, screen, and A/V capabilities. This building offers a very modern feel with high ceilings, columns, and marble flooring. It also includes several seating areas, study rooms, and computer labs.