Tobias Reynolds-Tylus: Assistant Professor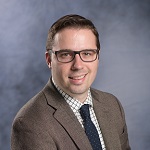 Tobias Reynolds-Tylus, Ph.D., recently joined JMU as an assistant professor in the School of Communication Studies, where he teaches courses on health communication, health communication campaigns, and a general education course on fundamental human communication.
His research interests include health communication, persuasion, health campaigns, and media representations of health. To date, much of his work has been focused on the design and evaluation of organ donor registration campaigns. His work has been presented at national and international conferences, and in refereed journals, including Journal of Health Communication, Health Communication, Journal of Broadcasting & Electronic Media, Clinical Transplantation, Progress in Transplantation, and Applied Communication Research.
Tobias received his Ph.D. in communication from the University of Illinois at Urbana-Champaign, his M.A. in communication from SUNY Buffalo, and his B.A. in psychology and communication from SUNY Buffalo.