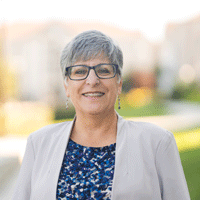 Lori Britt, Ph.D., University of Colorado Boulder; M.A., University of North Carolina Greensboro; B.A., Bloomsburg University; serves as Director of the School of Communication Studies and is one of the co-directors of the Institute for Constructive Advocacy and Dialogue (jmu.edu/icad).
Her research and applied scholarship revolve around helping organizations and communities better think and talk together to address difficult issues while building relationships of trust and encouraging broad engagement. She serves as board chair of the National Coalition of Dialogue and Deliberation (ncdd.org) and works with the Kettering Foundation and the Interactivity Foundation helping promote collaborative discussion and democratic practices.
At JMU, she has taught a wide variety of undergraduate and graduate courses in organizational communication. She infuses these courses with her career experiences as as a newspaper reporter and directing communication and public relations efforts for non-profit and trade organizations.