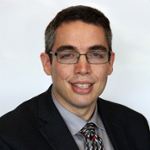 Matthew Brigham (Matt) came to JMU in 2009. He grew up in Bozeman, Montana, and attended Baylor University for his BA (political science, philosophy, and environmental studies majors, gender studies minor) and MA (Communication Studies). Matt earned his Ph.D. from the University of Pittsburgh. His dissertation explored international conferences regarding human overpopulation. At the end of the 2019-2020 academic year, Matt received tenure and was promoted to Associate Professor. Matt is a Graduate Faculty Member, teaching in the Communication and Advocacy MA program in the School of Communication Studies. He also, since 2020, has served as Coordinator of the SCOM Annual Undergraduate Research Conference, an event that has been a tradition at JMU for over 40 years.
 Matt teaches courses in general education (SCOM 123), the major's core (SCOM 242: Presentational Speaking and 341: Persuasion), and advanced methods (SCOM 381: Rhetorical Research Methods). In the Advocacy Studies concentration, he has taught SCOM 313 (Advocacy and Environmental Justice), SCOM 342 (Argument and Advocacy), SCOM 352 (Communication and Social Movements), SCOM 353 (American Political Culture and Communication), SCOM 354 (Environmental Communication and Advocacy), SCOM 442 (Advanced Topics in Advocacy Studies [the advocacy studies capstone]), SCOM 453 (Political Campaign Communication), SCOM 464 (Communication, Culture, and Sports), and SCOM 490 (Special Studies in Communication Studies). Many of these courses count toward the Political Communication, Environmental Humanities, and/or Sport Communication interdisciplinary minors. Matt has also taught SCOM 541 (Rhetorical Theory and Advocacy), SCOM 600 (Advocacy Processes and Techniques), SCOM 652 (Environmental Justice: Advocacy and Perspectives), SCOM 653 (Critical Perspectives: Environment, Advocacy, and Public Culture), SCOM 681 (Seminar in Rhetorical Criticism), and SCOM 695 (Fieldwork in Communication and Advocacy) at the graduate level.
 Beyond his classroom pedagogy, Matt has helped to guide and mentor undergraduate and graduate students in research projects. For instance, Matt advised/chaired an honors thesis completed by Rachel Moss in 2018 and co-advised/co-chaired an honors thesis (with Dr. Lindsey Harvell-Bowman) completed by Lydia Erickson in 2019. In addition, he has advised and served as a master's thesis committee chair for three graduate students (Taylor Johnson [2017], who has since successfully completed her doctoral program at the University of Utah and, in Fall 2022, will re-join us as an SCOM colleague, serving as an Assistant Director of Debate for JMU's prestigious debate team; Michael Clay [2018], who is currently in the doctoral program at the University of Maine; and Lantz Shifflett [2021]), and has served as a committee member for numerous graduate thesis and internship projects.
 Matt also enjoys helping students transform class papers into conference or journal submissions. Dozens of his students have presented their course-produced scholarship over the years at the SCOM Undergraduate Research Conference, with multiple of them winning awards. Students have also presented state, regional, and national conferences. Approximately 15-20 students from Matt's undergraduate/graduate classes have submitted their work to scholarly peer-reviewed journals. Thus far, 5 papers that began in Matt's undergraduate classes (authored by [listed alphabetically] R. Chase Dunn, Kevin Leaven, Brooke Long, Rebekah Peterson, and Leanna K. Smithberger) have been published in scholarly peer-reviewed journals, as well as 4 papers that began in Matt's graduate classes and/or graduate theses (authored by [listed alphabetically] Catherine J. Bruns, Taylor N. Johnson, Lantz Shifflett, and Emily Winter). Several additional student manuscripts are, at any given time, either being prepared to submit to conferences and/or to journals (in some cases, for first consideration, and in others, in response to revise and resubmit invitations) or under review.
 Matt's research uses theories of rhetoric and argument to examine public and academic controversy and to examine how taken-for-granted notions about elements like temporality shape
the worldviews of non-dominant marginalized/resistant cultures. He focuses on public controversies, especially those involving the environment and environmental justice, race, international/transitional issues, or some combination of these. Matt also examines pedagogical and university/disciplinary-oriented controversies, including historical and contemporary studies situating competitive forensics (speech and debate) in broader academic and/or public contexts.
 Matt's research appears in journals including the Western Journal of Communication, Argumentation and Advocacy, Communication Studies, Liminalities, Contemporary Argumentation and Debate, Speaker & Gavel, the Journal of Communication and Religion, Poroi, and the Florida Communication Journal, as well as multiple prestigious edited book volumes. Matt enjoys collaborating on scholarly projects with colleagues. As a result, nearly half of his publications are co-authored with current and/or former departmental colleagues at JMU.
 In 2017, the SCOM graduate students awarded Matt the Outstanding Graduate Faculty award, one of his most treasured professional achievements. He has been a Madison Research Fellow, a Madison Teaching Fellow, and has assisted JMU Debate, for which the debaters selected Matt for their "Friend of Debate" award. Matt also previously served as an Innovation Services Faculty associate, helping to found a Teaching for 21st Century Peer Mentors and Schools Initiative in concert with the JMU Libraries.
 Matt also enjoys service opportunities. He has helped select and coach the May university-wide commencement ceremonies' undergraduate student speaker for multiple years. He also frequently works with the Madison Collaborative, including the "It's Complicated" ethical reasoning scenario exercise conducted during first-year orientation. His submitted scenario for that "It's Complicated" program was selected and awarded to be part of "Contagion," which debuted as the program's scenario in August 2016. Matt is one of the inaugural members of the Madison Hispanic Caucus (MHC) (https://www.jmu.edu/mhc/). He regularly reviews submissions, chairs panels, and responds to papers for the Public Address Division, the Latino/Latina Communication Studies Division, and the La Raza Caucus for the National Communication Association (NCA) convention, and previously served as an officer for the latter two units, which included planning the convention program. Matt has also been selected, in 2022, to serve a two-year term as an Associate Editor for the interdisciplinary Journal of Environmental Studies and Sciences (https://www.springer.com/journal/13412).
 Outside of academia, Matt is an avid sports fan (Baylor and JMU, Steelers, Pirates, Penguins, USWNT, USMNT,). He also enjoys traveling (and has been to 47 of 50 states, looking to visit the last few, as well as seek out international travel opportunities).