Timothy Ball: Associate Professor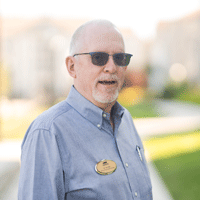 Dr. Tim Ball is an associate professor in the School of Communication Studies and has been a faculty member at JMU since 1998. He teaches at least one section of the Fundamental Human Communication course that focuses on group communication (also known as SCOM 123) every semester and has served as the Basic Course director since 2003.
In addition to the basic course, Dr. Ball teaches SCOM 350 Introduction to Organizational Communication, SCOM 318 Communication in a Mediated Society, SCOM 358 Business and Professional Communication, SCOM 450 Advanced Organizational Communication, and SCOM 502 Introduction to Teaching Fundamental Human Communication.
Dr. Ball's research and scholarship interests include the theory and practice of teaching and how they influence student learning; the assessment of cognitive, behavioral, and affective measures on communication competence; and the ways in which civic engagement is central to effective communication.
Dr. Ball lives in Harrisonburg with his wife Joan (a kindergarten teacher at Spotswood Elementary School), and their two cats, Tenacity and Annie.