Elizabeth Armstrong: Lecturer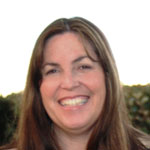 Elizabeth Morgan Armstrong, Ph.D., a lecturer in the School of Communication Studies, recently completed her post-graduate degree in Leadership from Andrews University.  She also received an M.A. in Interdisciplinary Communication and Education, and a B.S. in Public Relations from that institution. 
Dr. Armstrong researches group communication and creative problem solving in groups.  Her dissertation studied how these two areas interact in group settings.  She currently teaches SCOM 242, SCOM 261, SCOM 425, SCOM 318/ISAT 280/ENGR 280, and has been teaching GCOM/SCOM 123 since 1998 at JMU.  Her research also includes grief communication.
Dr. Armstrong received the university's Arboretum Collaborative Grant in 2010 and incorporated concepts of environmental learning into her creative problem-solving class.  She serves as vice chair on the SCOM Basic Course Committee and participates in departmental search committees. 
Her personal interests and hobbies include mountain living, horses (she owns five), playing music and genealogical research.  She also studies Scottish Gaelic and would like to bring Celtic Studies to JMU.