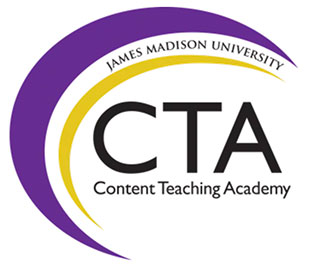 The Content Teaching Academy (CTA) is a professional development program for in-service teachers hosted on the campus of JMU each summer. The CTA offers targeted and sustained professional learning on a variety of topics (see below for this summer's Academies). Our Academies offer high-quality professional development that includes in-depth studies across a range of content areas. In addition, each component of the CTA is designed to engage participants in critical dialogues of practice with instructional sessions conducted by scholars and master teachers who understand the challenges associated with today's classrooms. For the summer of 2023, the cost of attendance, including a stipend that is paid to attendees for full participation, is being funded through VDOE grants.
CTA Academy Descriptions
2023 Face-to-Face Schedule
When you click on the registration link below for each academy, you'll be prompted to make an account for the registration system, or sign in if you already have an account. Once you have signed in with your account, you'll be able to complete your registration and select the specific academy you would like to attend. 
If you are having trouble registering, check these FAQs.
*PLEASE NOTE: You may find that your school system's protective network security blocks or hinders your CTA registration attempts. Registering outside of the school's security system may help you expedite and complete your registration submission process.
| | | | |
| --- | --- | --- | --- |
| June 26 | June 27 | June 28 | June 29 |
| C-TERM | C-TERM | AMSET | AMSET |
| BPI | BPI | Unlocking Big Words | Unlocking Big Words |
| APE | APE | APE | APE |
| IPT | IPT | SLPSI | SLPSI |
| STA | STA | ECSE | ECSE |
| | | IBA | |
Augmenting Mathematics and Special Educator Teams (AMSET) - The AMSET academy is a two-day academy designed for mathematics and special educator school teams working together to enhance student outcomes focusing on improved content understanding, pedagogical strategies, collaboration strategies, and networking. June 28-29
Best Practices in Inclusive (BPI) Education Academy- The BPI academy is a two-day academy designed to help instructional teams from targeted schools to improve and enhance the performance of students with disabilities in more inclusive school settings. This academy is offered by invitation only. June 26-27
Unlocking Big Words: Strategies for Decoding Multisyllabic Words (UBW) – UBW is a two-day academy is designed to address the needs of older students (middle and high schoolers) who struggle with decoding and determining the meaning of multisyllabic words. Participants will learn how to use the principles of syllabication and morphology to build fluency and comprehension in their struggling readers, including those with specific learning disabilities. June 28-29
Co-Teaching Elementary Math/Reading (CTERM) - CTERM (K-5) academy is a two-day academy designed for elementary school general and special education teacher coteaching teams who work together during math and reading to enhance student outcomes by improving content understanding, pedagogical strategies for math and reading, collaboration/co-teaching strategies, and networking. June 26-27
Instructional Practices for Teachers of Students with Significant Cognitive Disabilities (IPT) - IPT is a two-day academy designed for teachers teaching an adapted curriculum to students with significant cognitive disabilities. It will provide teachers with strategies and instructional resources to support their instruction using the Virginia Essentialized Standards of Learning (VESOL). June 26-27
Speech-Language Pathology Summer Institute (SLPSI) – The SLPSI is a two-day conference-style event where attendees can attend a variety of sessions that address: 1) current therapy concerns using evidence- or research-based methodologies, 2) logistical and/or job-related concerns germane to school-based speech-language pathologists, as well as 3) working collaboratively with colleagues across general and special education on shared goals for students with disabilities. June 28-29
Secondary Transition Academy (STA) – The STA is a two-day academy designed for educators implementing secondary transition planning and services. Sessions will address: the secondary education indicators (1- graduation; 2- dropout, 13-IEP compliance in transition; and 14-post secondary outcomes) IEP development, transition assessment, and access to resources, etc. Participants will also tour the Wilson Workforce and Rehabilitation Center (WWRC), a unique resource in Virginia that provides comprehensive transition assessment. June 26-27
FULL Intensive Behaviors (IBA) – The IBA is a one-day academy designed for general and special educators who support students with intensive interfering behavior support needs. The academy will engage educators in building a deeper understanding of behavior, how to plan and implement behavior instruction, and the high-leverage practices that should be in place to promote a positive learning environment for all. June 28
Adapted Physical Education(APE) - The APE/FLE program is a four-day academy designed for physical education and special education teachers to enhance their understanding of the Physical Education Standards of Learning and develop effective inclusion strategies that allow all students to be successful, including those with disability. June 26-29
FULL Early Childhood Special Education (ECSE) –The Building Social-Communication Skills in Young Children with Disabilities is a two-day academy designed for early childhood special education teachers, early childhood teachers, and speech-language pathologists who teach preschool-aged children with IEPs. It will provide participants with strategies and instructional resources to explicitly teach social-communication skills by focusing on instruction during naturally occurring opportunities as well as providing planned opportunities to build skills. Participants will learn how to select and implement assistive and instructional technologies to support the needs of students with disabilities so that every preschool child with an IEP can develop functional communication skills. June 28-29
FULL Special Education Teacher Support Academy (SETSA) - The SETSA academy is seeking 100 early-career special education teachers (beginning through year 3) and 20 veteran special education teachers (who may apply to serve as coaches). This academy is open to special educators throughout Virginia. The goal of SETSA is to build the capacity and efficacy of early-career special education teachers by improving teacher effectiveness and reducing teacher attrition in K-12 classrooms. The focus will be on providing new special education teachers learning opportunities and practical strategies in the areas of professional knowledge, learning environment, instructional planning, instructional delivery, and assessment for and of learning. SETSA registration is full for 2023. See above for alternative professional learning opportunities.