Computer Science Research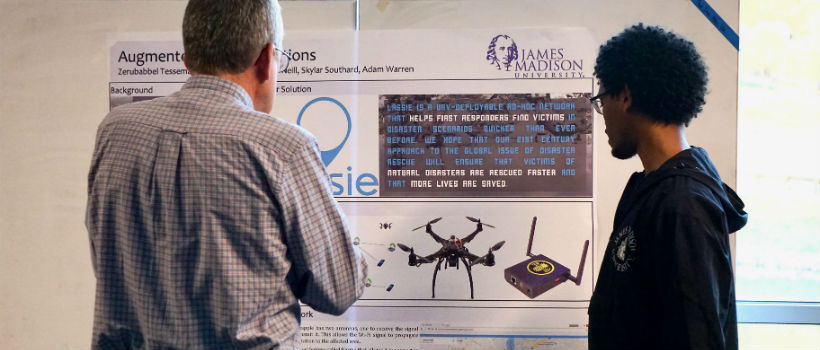 JMU CS faculty are active members of their respective research communities. We regularly publish and present at international and national research venues. Our commitment to our research forms the foundation on which our curriculum is based. The diversity of our respective research programs allows us to bring a wealth of expertise to the classroom and helps us guide students through the ever-changing world of computer science and technology. 
Student Research
Our diverse and active research programs also provide upper-level students the opportunity to take part in the challenge and excitement of CS research in a number of ways. Students who want to know more about what research in CS is like can start by attending our CS Research Seminar, which occurs roughly every other Friday throughout the semester. In it, our faculty members present on current and ongoing research progress in their respective fields. Students who want to take this a step further may dive into research themselves, either through independent studies for college credit, research assistantships or by the completion of a three-semester honors in the major thesis. 
Research Areas
Area

Faculty

Artificial Intelligence

Nathan Sprague

Kevin Molloy

Compilers

Computer Architecture

Computer Science Education

Chris Mayfield
Michael Kirkpatrick

Michael Stewart

Dee Weikle

Computer Systems

Michael Kirkpatrick

Michael Lam

Sharon Simmons

Dee Weikle

Computing and Communications in Transportation

Databases

Digital Forensics

Discrete and Computational Geometry

Floating Point Analysis

High Performance Computing

Human Computer Interaction

Information Security

Mohammed Aboutabl

Hossain Heydari

Brett Tjaden

Xunhua (Steve) Wang

Machine Learning

Software Engineering

David Bernstein

Xunhua (Steve) Wang