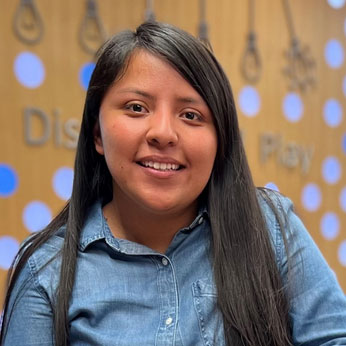 Senior Consultant, Deloitte

Highlights from Undergrad
Centennial Scholarship Recipient

Executive member of WIT (Vice President, 2016)

ACM member (2 Years)

CS Teaching Assistant (3.5 Years)

Attended Grace Hopper conferences (2013, 2014, 2015)

Attended CAPWIC conference (2014)

Community mentorship and outreach through DIGITAL

Shenandoah Valley Latino Scholars Initiative (Mentor)

Speaker at JMU CHOICES and Open House events
What are you doing in your current position?
I've been working at Deloitte since I graduated from JMU. I was a part of WIT (Women in Technology club), and they had an Industry Speaker event where a recent graduate who worked at Deloitte came to campus to give a showcase. She remembered me during my senior year and gave me the interview. It really goes to show the benefit of WIT networking: I felt like I had everything lined up for me. 
I work as a Senior Consultant in Technology, Strategy, and Analytics with Deloitte. In addition to working as a software developer, I also conduct training and lead different aspects of the tool we're building. When I was at JMU, I was a CS Teaching Assistant. I always liked tutoring and helping people learn. So I love that my position involves me teaching people on my development team new skills: how to break problems down, thinking critically, and not just thinking of the specifications and requirements but seeing the big picture, how to interact with others professionally, and build strong communication skills. 
It's such a great balance of different projects, networking, and making an impact through training, which is only possible because of how big Deloitte is and how many opportunities are available.
What were some of your most significant experiences you had in the CS program?
For me, it was having so many opportunities to do volunteer work and give people the experience to explore computer science: I participated in outreach to high school and middle school students. Because we don't have a straight roadmap in life for what we want to do, I think introducing young students to computer science is so empowering so they can determine if they're interested in it. My route to computer science was atypical. I didn't have any experience in high school, but my guidance counselor pointed out that I was good at math and science, and should consider majoring in computer science. That changed my life.
So I was committed to giving other students an introduction to computer science. I was part of the founding team for Dukes Inspiring Girls Into Technology Across Limits (DIGITAL), where we ran workshops for local middle and high school girls to introduce them to tech and coding. [Side note: DIGITAL recently celebrated its 10th year of offering day-long tech workshops for local girls!] I love that I had so many opportunities to not only develop my technical skills at JMU, but to get involved in the community and share the knowledge I was learning in my CS classes. 
I recently did an Agile Methodology training for an incoming analyst cohort at Deloitte and will also participate as a peer coach for Senior Consultants. It's an amazing training program. Agile is so essential to how we run software now, but I first learned about Agile when I took CS 345 at JMU with Dr. Fox. Which was such a great experience, because we got to experience the Agile approach by running sprints through the whole semester. The training I did for Deloitte was just one day, so we were rushing through the class. I wish my training could have been applied a little heavier, because Agile is just how everyone operates now. I love the process of the retrospectives: that no matter what we're doing, we're always reflecting and asking "how do we get better?" And that's a continuous question, no matter the project or outcome.
What are some of the ways JMU prepared you for the challenges you encountered and goals you've achieved after graduation?
JMU is a great place with great people and is wonderful about bringing in and listening to different perspectives.  It offers such a friendly environment - I can't imagine not having the opportunity to do so many things that JMU just offers as a campus. Their focus on being a kind community is such a bedrock to everyone's experience. 
Like opening the door: we always open doors for each other - literally and figuratively. And I think that helps keep us hopeful and focused on being good people wherever we are.  And there's such a sense of camaraderie among alumni: everyone loves JMU. I think it gives us a special, shared connection. 
JMU brings in the perspective of being kind, celebrating diversity, and supporting underrepresented groups. The CS program certainly does that. The CS faculty are amazing people who care about what they do as professors and making an impact on these students' lives that will then go on to make an impact somewhere else. I'm thankful for the amazing lifelong connections I've been able to make.