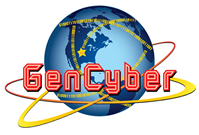 For High School Technology Teachers
The GenCyber program (supported by National Security Agency and National Science Foundation) was developed with the goal of facilitating cyber security education growth and attracting and recruiting college bound students to the field of cyber security. The program provides cyber security awareness and education to students K-12, cyber security teaching methodologies for computer science teachers, and establishes resources for both the cyber security teaching and learning curricula.
Overview
Each summer, the Department of Computer Science at James Madison University offers TWO five-day boot camps that cover the basics of Cyber Defense for high school technology teachers. The boot camp provides interested teachers with the opportunity to learn the fundamentals of Cyber Defense and provide them with a complete set of course material (lecture slides, lab projects, and tools) to take to their home institutions.
Participants learn:
The basics of setting up and administering both Windows and Linux operating systems
Hardening techniques for securing both Windows and Linux hosts
What tools attackers commonly use to perform reconnaissance on their targets
How and why attackers perform password cracking, network sniffing, and other attacks
The tools defenders typically utilize to defend their systems and respond to incidents
It is important to note that we will not be trying to teach the participants how to be attackers (we will be sure to point out the legal and ethical issues of all techniques that we will cover), rather we will focus on helping them to understand the types of things that attackers typically do, how the attackers intend to use that information, and what defenders can do to protect themselves and their systems.
After completing the boot camp, we hope that participants will be inspired to continue their own exploration of information security and cyber defense and also involve interested students at their school in these activities through some sort of group or club. We will also provide information about the CyberPatriot program and how your school can compete.
Stipend
All participants selected for the boot camp will receive a $1,500 stipend to cover their travel, food, and lodging costs. Participants are expected to actively participate in all the lecture and labs, to receive the stipend.
How to Apply
In the spring of each year, a link to the online application form will be posted here.
Sponsors