Get to Know JMU CS
The best way to get to know our program is to talk to the students and faculty who make this department a community. So we offer one-on-one video chats with our CS Ambassadors and personalized tours where you can sit in on classes and talk with our faculty and students. 
So schedule a video chat and we'll talk with you soon!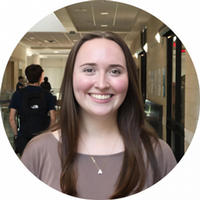 Annabelle
Class of '25 from Arlington, Virginia.

About Me: I am a sophomore CS major. I have two campus jobs, in addition to being a CS Ambassador, I'm also a CS Teaching Assistant. I have an internship with MyMatR where I am developing an app for the company. I am in Greek life. I enjoy cross stitching, running, and watching Netflix in my free time!

Ask me About: Anything JMU CS, internships, fun things to do in Harrisonburg, or whatever is on your mind.
Alejandro
 Class of '24 from San Juan, Puerto Rico

Why I'm at JMU CS: Small class sizes, close proximity with professors, and course offerings stood JMU out from the rest. The department is very mindful of minorities within Computer Science. Professors are very knowledgeable and are willing to share what they know and always have their office doors open to chat with.

Ask me About: Anything! I'm an open book. Some topics I like talking about: living in a military family, working in a FAANG company, and how I have the memory capacity of Dory.
Matt
Class of '23 from McLean, VA

Why I'm at JMU CS: When I was touring colleges I wasn't sure where I wanted to go or major in, but JMU had such an inviting CS community and knowledgable professors that it made the decision an easy one. 

My Clubs & Hobbies: I'm involved in a variety of clubs and extra curricular's on campus, like the Cyber Defense Club or Upsilon Pi Epsilon honors society. I also work as a videographer and photographer for the university.

Ask me About: Feel free to ask any questions ranging from JMU's CS course catalog, to extra curricular's, to great places to eat in Harrisonburg. I'm also plan on graduating early and pursuing a graduate degree, so if you're interested in doing the same, ask about that!
Amber
Class of '24 from Ashburn, VA

Ask me About: I have first hand experience with switching majors, joining CS late, transferring community college credits, graduating early, and the JMU-VT collaborative masters program. Some of my interests that I love having discussions about include space, environment, and animals.

Why I'm at JMU CS: For the opportunities. There are a multitude of research topics, internships, scholarships and clubs. The students and staff are also incredible and make learning enjoyable.
Emily
Class of '24 from Richmond, VA

About Me: I got my Associates of Science from Brightpoint Community College (formerly John Tyler) and then transferred to JMU knowing I wanted my future to be with Computer Science. I recently completed an internship at the Richmond Federal Reserve in their cybersecurity area.

Ask me about: Anything about JMU CS, different clubs and orgs, video games, cybersecurity, or anything else. I am an open book!
Joselyne
Class of '23 from Glen Allen, VA
Why I'm at JMU CS: JMU's CS community is full of amazing people. All of the professors and faculty put in so much effort and support to help us succeed. The friends I've met here are also some of the best people I've met. They create such an encouraging, healthy environment to thive in while pursuing your academic career here at JMU.

Clubs & Interests: I am currently in Honor Council, Vietnamese Student Association, Kinetix Breakdance Club, Upsilon Pi Epsilon honors society, and Women In Technology. I have a big interest in art, graphic design, rock climbing, and hanging with my dog, Poki Loki Tran.

Ask Me About: Any questions about anything JMU CS or the internship finding process! Or even just fun things to do at JMU!
Kennedy
Class of '23 from Richmond, VA
Why I'm at JMU CS: I transferred midway through my sophomore year from William and Mary to JMU because of the CS department. I was drawn towards the communication and soft skills JMU CS faculty mix into their curriculum along with incredible professors who have helped me hone my skills as a programmer. 
Clubs & Interests: I am in the JMU BluesTones A Cappella group on campus, and enjoy running and cooking. 
Ask me About: The transfer process into JMU CS, and anything music related!
Abdullah
Class of '25 from Harrisonburg, VA
Why I'm at JMU CS: JMU offered an affordable opportunity for me to study CS compared to other schools in VA. I was really attracted by the flexibility of the program and how it allows you to double major in something else you're interested in. That, along with how focused on teaching the professors are, makes it a perfect match for me.
Clubs & Interests: I'm currently in Competitive Programming and I enjoy playing pool.
Ask me About: My experience with escape rooms.
Blair
Class of '24 from Manassas, VA
Why I'm at JMU CS: The CS Department at JMU is like a second family. It is filled with people who want you to thrive and succeed. The department has the most supportive professors and students, who helped me find my passion for computer science and cyber security. I feel fortunate to be in such an encouraging and loving community.
Clubs & Interests: I am the Treasurer of Madison Dance Club and a member of the Upsilon Pi Epsilon Honors Society. I am also a double minor in Logic and Reasoning, and Dance. I love to get coffee and go for walks in my free time!
Ask me About: My favorite classes, the cyber security track, internships, and the best places to go on campus!
Ozi
Class of '25 from Harrisonburg, VA.


Ask me About: I'm a Harrisonburg local, so I can tell you more about the city and what opportunities it offers!

Why I'm at JMU CS: Throughout my time in high school, I toured various schools around Virginia. While touring, I didn't find that I fit anywhere. However, one day after school, my friends and I hung out on the quad and just played games and had a picnic. That was the moment I realized that JMU was for me. As for CS, I heard rave reviews about the program from some teachers in high school, so I took a chance and have been loving it since!