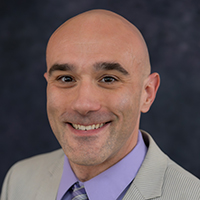 Welcome to the Department of Health Professions at James Madison University. I am excited that you are considering one of our outstanding academic programs for your professional preparation in health and healthcare. As the newest academic unit with the College of Health and Behavior Studies, our faculty are the embodiment of engagement, balancing the importance of evidence-based practice, scholarship, and service to positively influence health in the communities we serve. All of our programs utilize innovative student-centered approaches to prepare students for careers as health professionals. With undergraduate majors in Dietetics and Health Services Administration and graduate degrees in Athletic Training, Nutrition and Physical Activity, Occupational Therapy, and Physician Assistant Studies, students have the opportunity to choose from a variety of high quality academic programs that foster engagement in and beyond the classroom. Our students are engaged within the campus and local communities.
Success in healthcare today means that students must be able to work collaboratively with other members of the healthcare team. Providing opportunities for students to work interprofessionally and collaboratively is emphasized in all of our programs. As leaders in preparing the next generation of healthcare practitioners, our faculty have successfully combined classroom knowledge and skills with real-time experiences working with patients and clients in the community through clinical experiences, fieldwork, practica, internships, study aboard, and volunteer experiences. Whether at Harrisonburg High School; the Women, Infants, and Children Clinic; Sunnyside Retirement Community; The Blue Ridge Free Clinic; or the Occupational Therapy Education Services Clinic, our students provide holistic care to the patients/clients they serve.
I encourage you to learn more about each of our academic programs and the great things our students, faculty, and staff are doing within the community and our professions. I am confident that you will see that our programs will align with your personal and professional goals, and will support you in Being the Change!
Kirk J. Armstrong, EdD, ATC
Professor and Academic Unit Head
Department of Health Professions