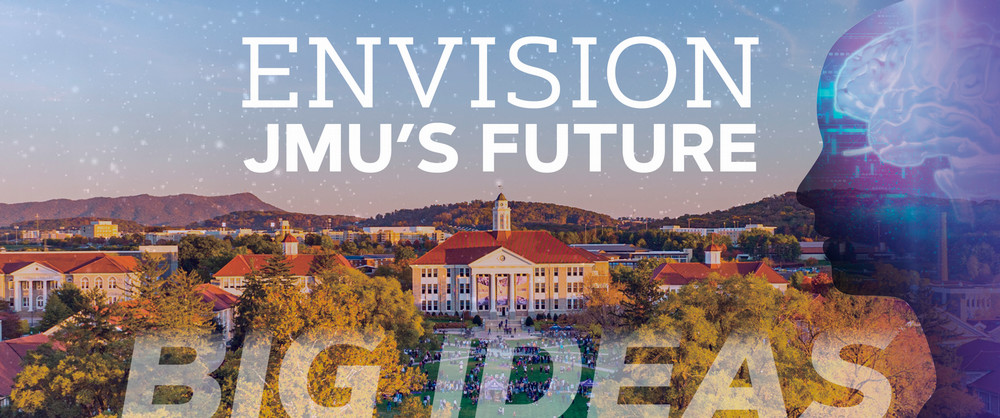 What is your Big Idea?
Dear JMU Faculty and Staff,
Rising to the national rankings, record enrollment, surging philanthropic and research support — it truly is an exciting time to be at JMU. While all of us should be proud of our accomplishments, we have much work to do and know that we cannot rest on our laurels. Our societies face unprecedented challenges, we exist in realms of dizzying change, and our students graduate into rapidly-shifting futures. I firmly believe it is time to lean even more on our strengths and look even further into our future.  
Accordingly, we are strengthening and reorienting our existing strategic-planning processes to plan more thoughtfully, more strategically and to involve your voice and your ideas.
As part of that effort, we are launching a new inclusive university  initiative aimed at inspiring us all to collectively imagine future trends and develop new themes that encourage the genesis of Big Ideas from every area of the university. These ideas may require years and additional resources to implement, and that's okay because big Ideas should inspire a broad array of the JMU community to leverage our distinctive strengths and create pathways to new opportunities that contribute to a better university and a better world. This sort of planning will be essential for JMU to fully realize its potential as we continue on our path as a national university. 
Consider this a initiative a request for proposals, but on a grander scale. The Big Ideas initiative is an opportunity to source visionary ideas from faculty, staff and students that might not otherwise be considered as we prepare for JMU's next strategic plan and comprehensive campaign. Examples of current Big Ideas unfolding on our campus are the Reengineering Madison project and building a library of the future with our Carrier Library renovation and expansion. We're talking big, bold and transformational. 
On this site, you will find helpful information to guide you through the process of submitting your Big Idea. If you have questions not found in the Big Ideas FAQ, send them to bigideas@jmu.edu. Thank you for your time and consideration, and have a great semester!
Sincerely,
Jonathan R. Alger
President
Submission Deadline: March 8, 2024
Questions can be directed to bigideas@jmu.edu