Being Seen: Where we go from here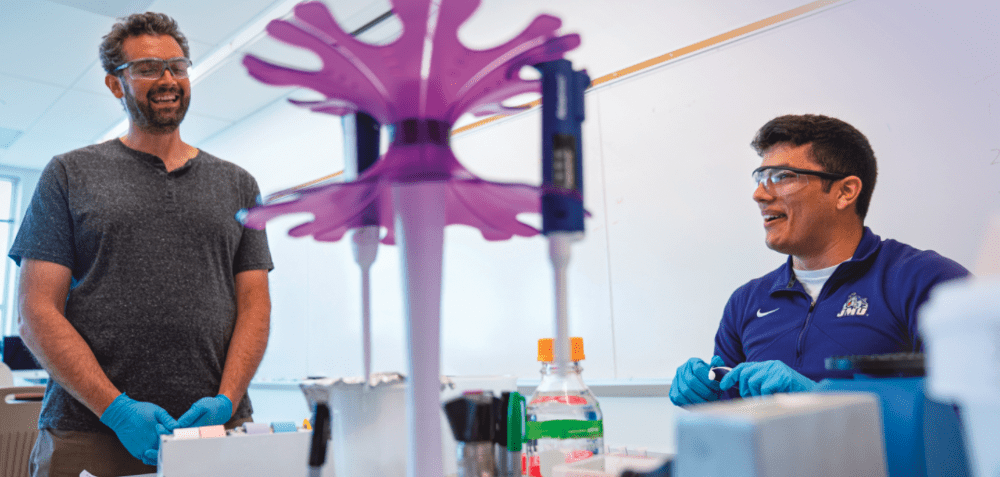 Being seen for who we are.
James Madison University continues its ascent with new Carnegie Commission classification
Over the past two decades, James Madison University (JMU) has been on a steady trajectory to attain national status. The university received a record number of undergraduate and graduate applications this past fall from 49 states and dozens of countries. And the Carnegie Commission recently classified JMU from a "master's-level" institution to a "doctoral university with high research activity," or an "R-2."
JMU arrived at this "R-2" distinction as a result of the following:
Continuous growth, along with the growing reputation and success of our graduate programs

(SEE TIMELINE)

Continued growth and prominence in research, scholarship and creative activities
A desire to grow our reputation nationally while better aligning with peer institutions
Through it all, JMU has remained distinctive in its emphasis on strong mentoring and high-quality teaching at all levels, and on providing students with rich opportunities to learn through hands-on experiences and participation in research.
---
"Part of what makes JMU truly special is that we are continuing to combine the very best elements of what you see at small liberal arts colleges with the research opportunities that you typically see at much larger research institutions. JMU has not been a regional institution for a very long time. But this new categorization and recognition really reflect who we actually are and who we've been for some time now."
— Jonathan R. Alger, president, James Madison University
INTENTIONAL ASCENT
The Madison Plan—the university's strategic plan for the years 2014 through 2020—plotted a distinctive path (see below) to national status. By elevating research and adding more doctoral programs, while remaining steadfastly committed to high-quality teaching at all levels, JMU now occupies a niche as a "hybrid" institution — one offering the best components of a small liberal arts experience blended with the scale, mass and diversity of disciplines at larger research institutions.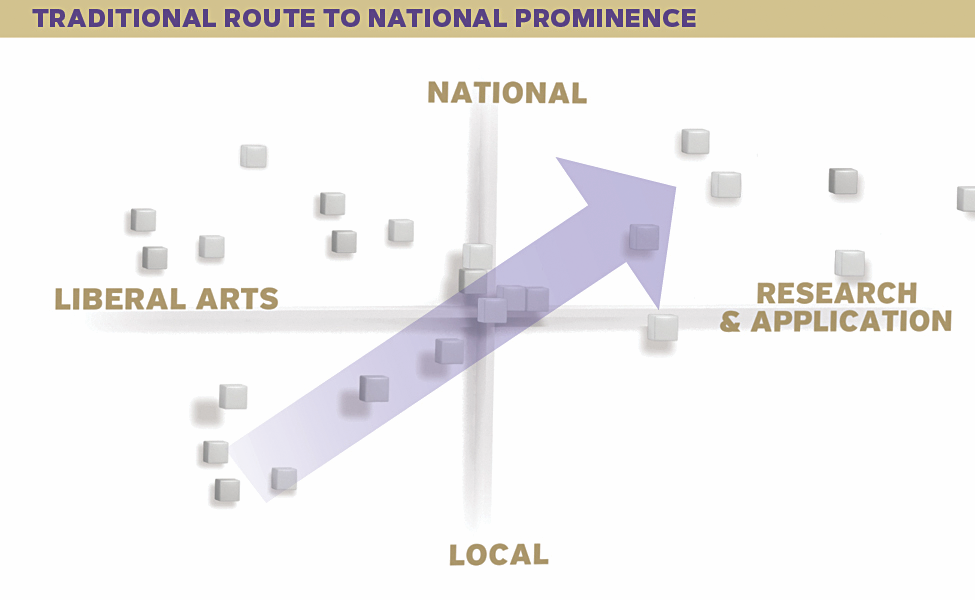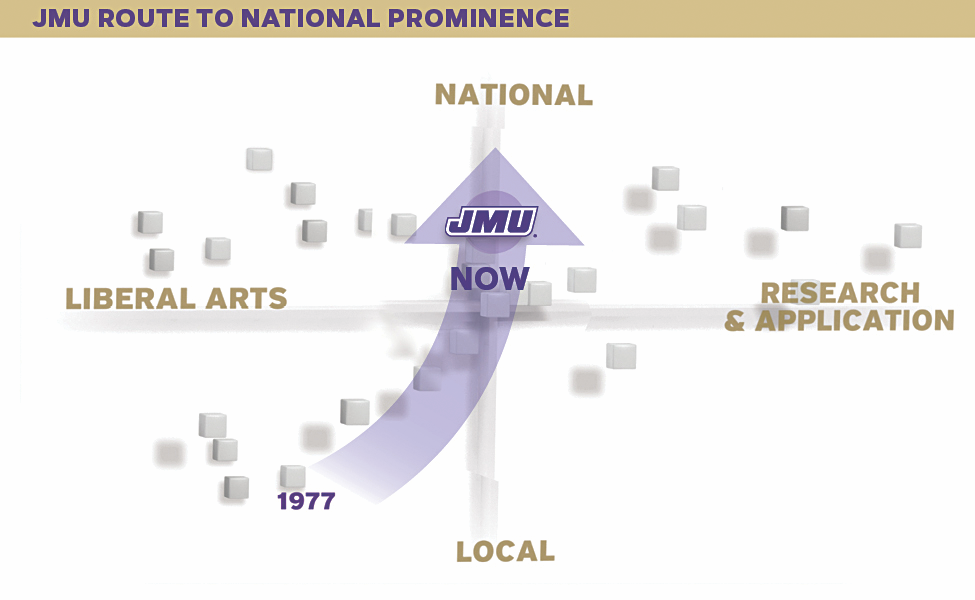 ABOVE: JMU carved out a niche in higher education by plotting a unique path to national distinction.
CONTEXT
It is useful to clarify the distinction between the designations of "National University" and "R-2." JMU is already considered a national university in many rankings (Wall Street Journal, Niche, Forbes, etc.). For instance, JMU has traditionally been ranked by U.S. News and World Report among regional universities in the South. With JMU's new R-2 status, we will now be ranked in the "National University" group by U.S. News and World Report. The Carnegie Classification® framework, first published in 1973, is the standard typically used within the study of higher education as its methodology represents and controls for more subtle institutional differences. Criteria for this classification is based on publically available data the university is required to submit annually. Carnegie classification is a major consideration used in ranking universities by a variety of sources.
According to Carnegie, there are currently three Doctoral University categories:
Doctoral University: Very High Research Activity (R-1)
Doctoral University: High Research Activity (R-2)
Doctoral/Professional University
Carnegie categorizes institutions based on their award of research doctoral degrees, professional-practice doctoral degrees and research expenditures during a sample year. In 2018, R-2 required greater than 20 research doctoral degrees and more than $5 million in research expenditures.
---
"That's what makes JMU different and quite unique in American higher education—we've never lost our focus on those personal relationships or on the importance of the teaching function, even as we've evolved to become a research institution."
— President Alger
CHARACTERISTICS
JMU has embraced several core commitments that have brought it to this point and which must be retained during this R-2 transition:
a high-quality,student-centeredundergraduateeducationwitha strong research, scholarship and creative activities culture
first-rate, research-focused and professional graduate programs
the centrality of the teacher-scholar model, which emphasizes students working closely with top faculty in their respective fields
dynamic faculty teaching, research, scholarship and creative activities that are collaborative, interdisciplinary and community-engaged
---
"JMU faculty are deeply committed to the teacher-scholar model that they employ. Not only are they deeply committed to their classwork, but also outside of class. It's what happens in that engagement in the conversations, in their interactivity in the mentorship and advising they provide. We know that this is the case because our students tell us. But they are also serious and accomplished scholars advancing knowledge in every discipline."
— Heather Coltman, senior vice president for academic affairs and provost, James Madison University
OPPORTUNITIES
This classification opens up a variety of opportunities for JMU as an institution and for its faculty and students. As a national university, JMU will have new opportunities to:
elevate the academic mission of the university
enhance and invest in faculty scholarship, research and creative activities
bring JMU faculty and staff expertise to bear in larger national conversations
recruit more widely across the country and internationally, attracting a more diverse pool of both new graduate and undergraduate students, as well as new faculty members
participate alongside peer institutions in the Association of Public and Land-grant Universities (APLU) and other higher education organizations with aligned missions and goals
bolster JMU as a community-engaged anchor institution for the Harrisonburg and the Shenandoah Valley
bolster commitments to diversity, equity and inclusion in alignment with the Academic Affairs Strategic Plan

CHALLENGES
Maintaining the quintessential JMU student experience as new opportunities for faculty scholarship and institutional impact evolve requires careful attention to balance in faculty workloads and incentives such as educational leaves. To continue to grow our scholarly activities as an R-2 institution, we also need more robust infrastructures—investments in Libraries, Research & Scholarship, and Information Technology — that enable and support student and faculty research and creative endeavors.
A clear resourcing plan must be developed for the areas of the university that will receive strategic emphasis for growth, and—as R-2 status is tied to graduate education—determine the extent to which we will focus on further development of existing graduate programs and/or creation of new ones.
NEXT STEPS
Guided by the Academic Affairs Strategic Plan, JMU leaders are taking the following steps:
working with the Legislature and State Council of Higher Education for Virginia (SCHEV) to reassess its state allocations and funding model in light of the change in status
developing and articulating JMU's R-2 identity as an institution with a distinctive blend of liberal arts, research and professional education
identifying and developing the resources needed to achieve and sustain that identity
undertaking market research to identify graduate program growth opportunities and opportunities for enhanced student recruitment
developing strategic plans for infrastructure investment and enhanced research support in the context of the R-2 transition