Northeastern Educational Research Association Award
The 2020 Leo D. Doherty Memorial Award for Outstanding Leadership and Service was awarded to Dr. Sara Finney, Professor for the Assessment & Measurement PhD program and Associate Director for the Center for Assessment and Research Studies at James Madison University. The Leo D. Doherty Memorial Award is presented to a longstanding NERA member who "has generously given of self to NERA, to advance its mission and to enable it to thrive." The award, instituted by the NERA Board of Directors in 1981, honors the memory of Leo Doherty who was instrumental in the development and growth of NERA as a professional association for educational research. Leo's leadership qualities, both ethical and compassionate, encouraged others to pursue and achieve their goals.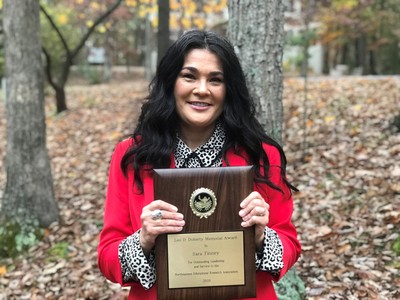 The video tribute highlights Dr. Finney's contributions to NERA since she began her membership with the organization in 2006. In addition to leadership roles, Sara worked to increase NERA membership, with a focus on encouraging new members to contribute in service-related roles to support the good work of NERA. In the video, comments by NERA president-elect Steven Holtzman (Educational Testing Service), NERA President Ross Markle (DIA Higher Education Collaborators), NERA board of directors members Drs. Carol Barry (American Board of Surgery) and Pamela Kaliski (American Board of Internal Medicine), and NERA past presidents Drs. Thanos Patelis (Fordham University, Columbia University) and April Zenisky (University of Massachusetts Amherst) provide insight into Sara's leadership and service.
The mission of the Northeastern Educational Research Association is to encourage and promote quality educational research and to create a venue for experienced and new researchers. NERA welcomes individuals conducting research in all aspects of education including learning, curriculum and instruction, educational policy and administration, measurement, statistics, research methodology, counseling, human development, social context of education, cultural diversity, special education and rehabilitation, educational assessment, school evaluation and program development, education in the professions, post-secondary education, teaching and teacher education, technology in education, creative arts in the schools, and others.