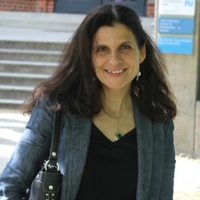 EDUCATION
Ph.D. Art History, Yale University
M.Phil. Art History, Yale University
M.A. Art History, Yale University
B.A. Fine Arts, New York University
AREAS OF EXPERTISE
Twentieth-century American and European art; history of photography; public art; museum studies.
PREVIOUS EXPERIENCE
Dr. Katzman was Associate Professor of Art and Director of the Museum Studies Program at Randolph-Macon Woman's College (1995-2007). She has been a Senior Lecturer in Museum Studies at Smith College and a Guest Professor in the Institute of English and American Studies at the University of Hamburg in Germany. As a Visiting Curator at the Fogg Art Museum at Harvard University, the Center for Documentary Studies at Duke University, and the Maier Museum of Art, she has organized numerous exhibitions of American photography that have toured the United States.
PROFESSIONAL AFFILIATIONS
College Art Association
Association of Historians of American Art
American Association of Museums
American Association of University Professors
HONORS AND AWARDS
Senior Research Fellowship, Smithsonian American Art Museum (2006-07)
Ailsa Mellon Bruce Senior Fellowship, Center for Advanced Study in the Visual Arts (CASVA) at the National Gallery of Art (2005)
Senior Fulbright Scholar Award for Hamburg, Germany (2002-03)
Katherine Graves Davidson Award, Randolph-Macon Woman's College (for a faculty member who has brought national distinction to the College) (2001-02)
National Endowment for the Humanities (NEH) Exhibition Grants (1998-2000)
Smithsonian Institution Pre-doctoral Fellowship, Research and Scholars Center (1991-94)
Andrew W. Mellon Foundation Dissertation Research Grant (1992)
Henry Luce Foundation Fellowship in American Art/ACLS (1990)
SCHOLARSHIP
Dr. Katzman has published articles and reviews on modern and contemporary American art in Art Papers, Yale Journal of Criticism, American Art, and Winterthur Portfolio. She is the co-author of Ben Shahn: The Passion of Sacco and Vanzetti (Rutgers, 2001) and Ben Shahn's New York: The Photography of Modern Times (Yale, 2000), which won the Kraszna-Krausz Award for the World's Best Books on Photography and Choice Magazine's Outstanding Title. Currently, she is working on a monograph on the documentary photographer Louise Rosskam, which will accompany an exhibition she is co-curating for the American University Museum and the Jersey City Museum (2009-10).
| | |
| --- | --- |
| | |
In 2007-08, Dr. Katzman co-organized a scholarly panel on de-accessioning controversies in American museums for the College Art Association Annual Conference in Dallas. She lectured at a symposium on New Deal art and culture at the Library of Congress and at a conference on contemporary artists responses to the Holocaust at the University of Hamburg.
PROFESSIONAL SERVICE
Dr. Katzman has served on Scholar Review Committees for the Fulbright Association and the American Association of University Women. Currently she is a member of the Advisory Board of the Ann Loeb Bronfman Gallery at the Morris Cafritz Center for the Arts in Washington, D.C. At JMU, she serves on the Public Relations Committee and on an Art History Search Committee. Her future plans at JMU include co-crafting an undergraduate Museum Studies Concentration, organizing an exhibition on WPA art in Virginia at the Madison Art Collection, and teaching in the Summer Study Program at the Free University of Berlin.