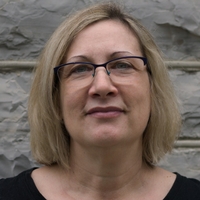 EDUCATION
M.F.A., University of Washington
B.S., (Art) James Madison University
AREAS OF EXPERTISE
Black and white photography, digital photography, new media, history of photography, contemporary art theory, performance for the lens, the photograph as document, portfolio development, math and art, team teaching and cross-disciplinary collaborations.
PREVIOUS EXPERIENCE
Diop has been a faculty member at JMU since 1989. Prior to that, she taught at Community College of Baltimore, the College of Notre Dame of Maryland and School 33 Art Center in Baltimore, Md.
PROFESSIONAL AFFILIATION
The College Art Association
Society for Photographic Education
Central Shenandoah Arts
American Association of University Women
Madison Caucus for Gender Equality and
JMU Safe Zone
HONORS AND AWARDS
Diop received the 2013 College of Visual and Performing Arts Distinguished Service Award. She was awarded JMU Faculty Educational Leaves for Exploring New Photographic Technologies: A Merge of Art Practice and Teaching and An Inquiry in New Media, and a JMU Faculty Research Grant, Math and Choice: Derivations in Digital Montage.
She was selected for artist residencies at The Virginia Atelier at the Cite Internationale des Arts in Paris, the Ragdale Foundation in Lake Forest, IL, Oregon College of Arts & Crafts and Women's Studio Workshop.
Diop was chosen for an Excellence in Photographic Teaching Award by the Santa Fe Center for Visual Arts.
SERVICE
Public Service
Diop has served as juror for many exhibitions, among them the Virginia Beach Boardwalk Art Show, Washington County Museum of Fine Art's photography salon, Lynchburg Fine Arts Center's photography exhibition and the Westmoreland Arts and Heritage Festival. She serves on Blue Ridge Community College Personal Enrichment Advisory Committee.

University and Professional Service
She has served on the graduate faculty since 1989 and as photography area head since 2003. She was director of New Image Gallery from 1989 – 2006 and from Spring 2016 – present. She is serving on the University Planning Team and is an Institute of Visual Studies Board Member. She was the graduate program director from 2006 – 2011.
SCHOLARSHIP
Diop's recent solo exhibitions include Modular Project Space Residency and Exhibition in Harrisonburg, Recent Work from Housekeeping and Modular Project Space at Oak View National Bank in Marshall, Va., Surface at Smith House Galleries at Arts Council of the Valley and Nature - Order at Blue Ridge Community College. She has exhibited with Metal Shed CoLab (Dymph de Wild and Rebecca Silberman) at Beverly Street Studio School in Staunton, Christopher Newport University, Bridgewater College and Smith House Galleries.
An essay and photographs done in collaboration with Dr. Elizabeth Brown, associate professor of math and statistics, associate professor of math, Sizing the Infinite, Seeking Eternity was published in Kapsula Magazine (as Brown U Diop).
Her work done in collaboration with Dr. Alex Bannigan, director of microscopy in the Department of Biology, was exhibited in The Socio-Technical Nexus at The cARTesean Space, a Gallery of the College of Integrated Science and Engineering (as Bannigan + Diop).
Previous solo exhibitions include Augusta State University, Elkins Hall Gallery at the Tyler School of Art, The Photography Gallery at Ithaca College, The University Center Gallery at the University of Alabama at Huntsville, the Photography Gallery at Virginia Intermont College and Hartzler Art Gallery at Eastern Mennonite University.
Her work has also been exhibited in groups shows in venues such as artspace in Richmond, Va., Photoworks in Glen Echo, Md., The Butler Institute for American Art in Youngstown, Ohio, Sol Mednick Gallery at University of the Arts in Philadelphia, ARC Gallery in Chicago, Staunton Augusta Fine Arts Center, and Capital One in Richmond, Va.
Diop co-presented 3D Technology and Photography along with Daniel Robinson, assistant director of the Institute for Visual Studies, at the ConFABulation: Symposium on 3D in the Classroom at Prince George's Community College.
She co-curated Outside the Golden Rectangle, a math and art exhibition, at the Institute for Visual Studies Roop Gallery with Dr. Elizabeth Brown and Daniel Robinson; and co-curated "Contemporary Mathematical Photography and New Media: Part I and II" at New Image Gallery with Dr. Elizabeth Brown and Rebecca Silberman.