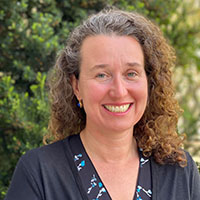 Education
Ph.D. (Art History), Institute of Fine Arts, NYU
M.A. (Art History), Institute of Fine Arts, NYU
B.A. (Art History), Dartmouth College
Areas of Expertise
Byzantine, Western Medieval, and Islamic Art and Architecture
Renaissance Art and Architecture
Professional Affiliations
Byzantine Studies Association of North America

College Art Association International Center of Medieval Art

Medieval Academy of America

Society of Architectural Historians
Previous Experience
Dr. Brooks has taught at Stonybrook University and Vassar College. She also served as a research associate at the Metropolitan Museum of Art from 2002-2006, working in the Department of Medieval Art on the permanent collections and on the 2004 exhibition "Byzantine, Faith and Power: 1261-1554."
Honors And Awards
Dr. Brooks has received research grants from the Fulbright Foundation, the Dumbarton Oaks Research Center, the Metropolitan Museum of Art, the Archaeological Institute of America, the American Research Institute in Turkey, the A.S. Onassis Public Benefit Foundation and the A.G. Leventis Foundation.
She also received professional development funding from JMU in the fall 2008.
Service
Dr. Brooks now serves on the Assessment Committee and is co-chair of the Art Forum Committee, both in the School of Art, Design and Art History.
Scholarship
Current
Author: The Art of Death in Byzantium: Funerary Art and Architecture, 1204-1453 (monograph) accepted for publication by Ashgate Press, UK.
"Sculpting the Triumphant Cross: The Byzantine Templon Screen and an Unknown Cycle of Precious-Metal Icons," under review.
Dr. Brooks has presented scholarly papers at the Annual Conference of the College Art Association, the University of Vienna's Institute for Art History, the Metropolitan Museum of Art, the New College Conference on Medieval and Renaissance Studies, and the Byzantine Studies Conference of America.
Recent
Editor: Byzantium: Faith and Power (1261-1557). Perspectives on Late Byzantine Art and Culture. Yale University Press, 2006.
"John 'the Golden-Tongued' Orator of Late Antique Constantinople: A Newly Discovered Icon in the Loeb Art Collection of Vassar College," Studies in Honor of Thomas F. Mathews, edited by Joseph Alchermes, Thelma Thomas and Helen Evans, forthcoming.
"Poetry and Female Patronage in Byzantine Tomb Decoration: Two Epigrams by Manuel Philes." Dumbarton Oaks Papers 60, 2006, pp. 223-248.
"The History and Significance of Tomb Monuments at the Chora Monastery." H. Klein and R. Ousterhout, eds., Restoring Byzantium: The Kariye Camii in Istanbul and the Byzantine Institute Restoration, New York, 2004, pp. 23-31.
"Sculpture and the Byzantine Tomb." Byzantium: Faith and Power, 1261-1557, ed. Helen C. Evans, Yale University Press, 2004, pp. 93-104.