JOIN OUR WOMEN-LED SCHOLARSHIP MISSION and imagine the groundbreaking work we can do for future Dukes when we give … together.
Join the Amethyst Circle
If you are ready to initiate your membership gift and join the Amethyst Circle now, please complete our giving form. The minimum donation to become an Amethyst Circle member is $5,000 payable over two years (must be complete by May 31, 2023).
Pledge Your Support
If you know you want to participate but need to delay payment, please complete this pledge form to support high-need, renewable, recruitment-based scholarships, then fulfill your $5,000 commitment by May 31, 2023.
---
Meaningful Involvement
Bold Investment
Make the circle strong!
Invite JMU friends and family to join you.
The need for JMU scholarships has never been more urgent. Families are continuing their struggle to recover financially from COVID-19, and we expect that to be true well into the future. Meanwhile, a changing demographic means more high school students now need scholarships to make JMU a real, practical choice.
What's more, we are losing aspiring Dukes to other institutions. Flagship competitors offer 35% of their admitted students scholarships, while we offer aid to a mere 6%. Non-matriculants cite a lack of scholarships as the No. 1 reason they can't choose JMU.
When you join the Amethyst Circle, your gift provides the renewable scholarship awards proven to unlock a JMU education for promising and deserving students. Your commitment today will make a big impact for high school seniors who have set their hearts on the Madison Experience.
---
"An open sky of possibilities ..."
"I am no longer limited by how many years of college I can afford financially — or in a place where my education and passions have to be compromised. Instead I am suddenly greeted by an open sky of possibilities ahead of me."
—Corinne Martin, Centennial Scholar
Double major: English and Native American history, culture, and narratives; minor: environmental humanities
---
Women's Philanthropy
By the Numbers
YOU CAN HELP BRIDGE THE OPPORTUNITY GAP for our students. We can raise $1 million together. At JMU, women are becoming a visible and leading force in philanthropy. We are determined to be instrumental in propelling the university to national prominence and in securing its future by recruiting brilliant minds regardless of socioeconomic status. Your commitment is critical.
---
"We make a difference ..."
"The Amethyst Circle is new. It's created by women to support what's needed most: scholarships for students who can't afford to come to JMU without our help. We make a difference, and I love it. We have this vision together and we do it. I really like that I'm investing myself and my financial support in league with other women. I urge more women to join our cause."
Dawn Smith Barnes ('90), Amethyst Circle founder
---
THE AMETHYST CIRCLE IS THE FIRST-OF-ITS-KIND giving society at JMU. Together we're harnessing the collective power of women's philanthropy to raise $1 million every two years. When you become a member during our first biennium, you help open our doors to high-achieving students who need scholarships to attend the university this year.
Your commitment
Make your pledge now to support high-need, renewable, recruitment-based scholarships.

Fulfill your $5,000 commitment by May 31, 2023.

Make the circle strong! Invite JMU friends and family to join you.

Renew your membership at the beginning of a new cycle.
Your impact
Transform Dukes' lives by providing renewable scholarships at a funding rate that's proven to make a difference in a student's ability to attend JMU.

Strengthen JMU's student recruiting potential so future Dukes don't have to forgo college or choose another second-choice university with more scholarships to offer.

Increase opportunities for JMU to receive funding from agencies who look first to see how many students with financial need we are already helping.

Transform JMU, too, by supporting women's programming to further build women's philanthropy.
Your benefits
Network with other Amethyst Circle members.

Shape the Amethyst Circle experience and additional benefits.

Build women's philanthropy at JMU and influence how women can collaborate to make a difference at the university.

Meet JMU scholarship recipients: See firsthand how your Amethyst Circle investment affects JMU students.

Celebrate our first Amethyst Circle biennium at the 2023 Women for Madison Summit.
---
"A significant philanthropic force for JMU ..."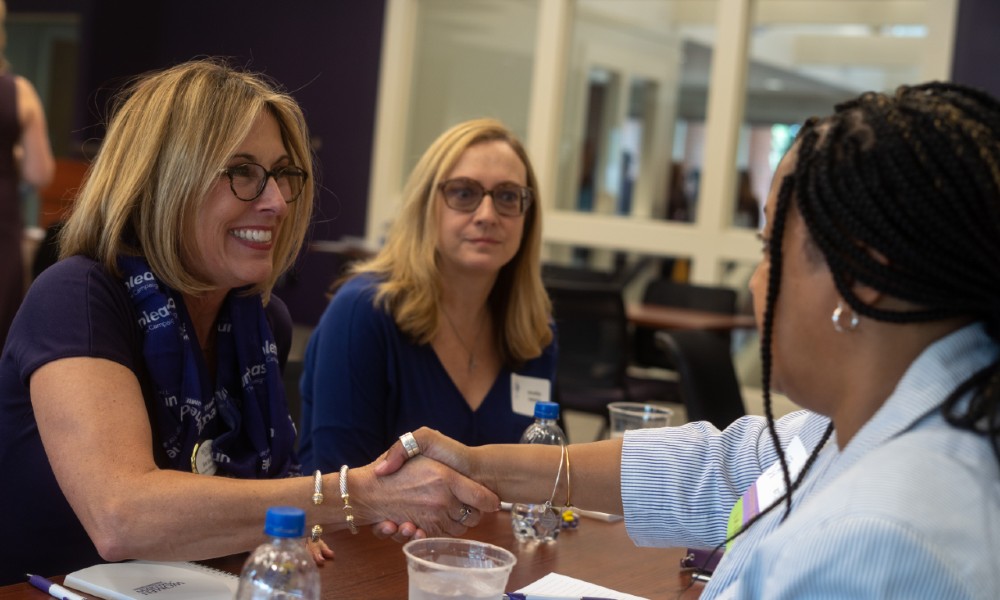 "I want women to step forward to become a significant philanthropic force for JMU well into the future. We can do this. We should do this. Think about it. Women are doing important work in the world. We are the CFOs and philanthropic decision-makers for our families. And traditionally we have come together, worked together, to improve our communities. So think about the impact we can have on our university when we give together."
—Beth McConnell Bliss ('84), Amethyst Circle founder
---
Women for Madison is guided by the university's statement on non-discrimination and equal opportunity. Events and activities are open to all genders.