Women For Madison
Barbara Bouldin ('87) Empowered By Her Place in the Amethyst Circle
---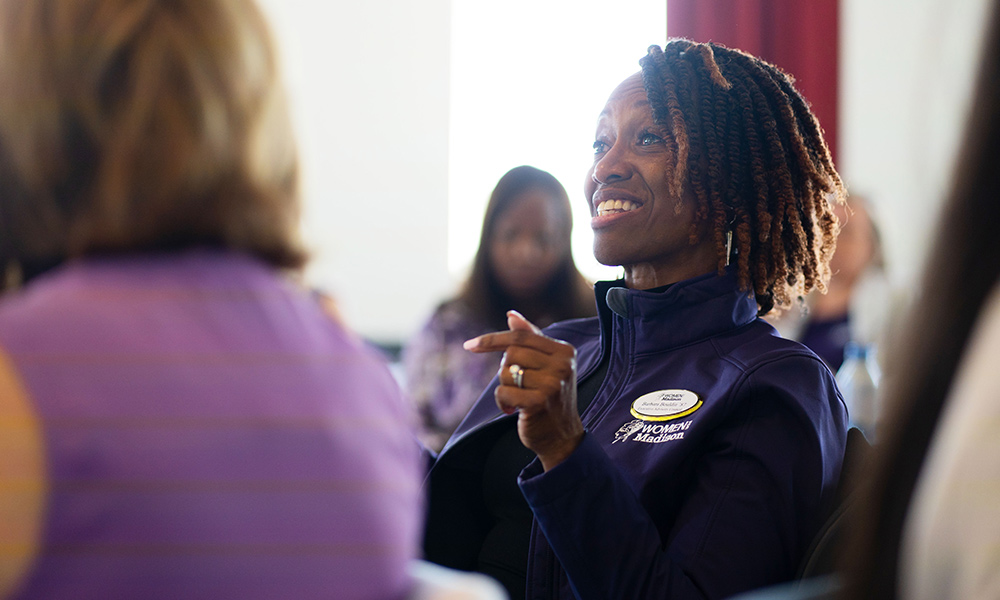 By Madi Rohm '23
Barbara Bouldin ('87) vividly remembers her first impression of JMU: "There was something intimate, warm and friendly. It was natural – not something you put on while people are here for their tour – a really natural feeling. I came home and said, `I'm headed to JMU.'"
When she visited campus again in 2019, the same feelings returned. "I saw women come together with a diversity of thoughts and capabilities," she describes the Women Who Amaze Summit. "But what really stood out to me: These women were bold. They were philanthropists, professionally and personally. It really resonated with me." 
Joining Women for Madison's Amethyst Circle, a first-of-its-kind giving circle focused on scholarships, felt like a natural next step. "Every time I leave JMU, my cup is full. Every single time. My giving is simply an overflow of that feeling of gratitude."
Still, she found it awkward to be labeled a philanthropist: "Taking on the identity of a philanthropist was a little scary at first. I certainly didn't see myself as such. That's for people with the really big dollars, you know? Old men, right?" Hearing stories from other JMU women helped shift her definition: "Over time, I began to see it differently. Now, I think it's not how much money you donate – it's how consistently you donate your money or time or talent."
Today, Bouldin says she feels empowered by her place in the Amethyst Circle and confidently shares about it with fellow alumni. "I tell them: Everyone has the propensity to give. A dollar, $5, $10. You decide it's what you want to do, and you become a philanthropist." 
The Amethyst Circle is set to create $1 million in scholarships every two years, opening doors for new students. "It's a bold mission," Bouldin nods in excitement. "When I think of prospective students taking their first tour, I know exactly how they feel. If you have the choice, you want to be at JMU. I'm helping to give them that choice."
About Barbara Bouldin
Bouldin has served in the federal government for more than 36 years, is a CPA, Federal Executive Institute alumni, and is now a Senior Executive for the General Services Administration Office of Inspector General. Always loyal to JMU, she also supports the Black Alumni Chapter Scholarship, Furious Flower Poetry Center, Lambda Chi Forever Scholarship, Ole School Alumni Scholarship, Madison Vision Fund, and now an inaugural member of Women For Madison Amethyst Circle. She is a proud life member of Alpha Kappa Alpha Sorority, Inc.
Bouldin's life motto: No act of kindness, no matter how small, is ever wasted. "I try to live that," she says. "If everyone remembered that, the world would be such a better place." 
Join Women for Madison's Amethyst Circle.