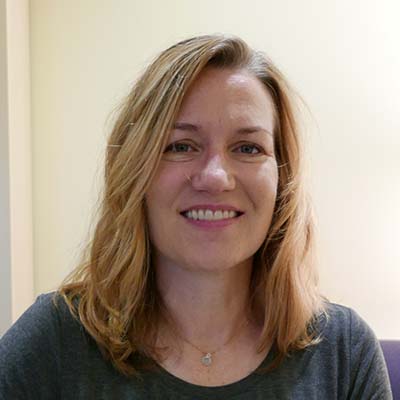 Victim Advocate and Staff Clinician

Kristen currently works as a victim advocate and staff clinician at the Counseling Center. She has past experience in victim outreach using restorative justice practices to help address the harms of victims of crime within the criminal justice system.
Kristen has a bachelor's degree in biology and a master's degree in Clinical Mental Health Counseling. In addition to her work as a counselor at JMU, she has experience in providing clinical services in community mental health settings. She joined the JMU advocacy team in 2021.
Kristen feels called to the work of supporting others through trauma and feels inspired as she witnesses their journey to strength, resilience and healing.
What do I do at JMU outside of Victim Advocacy Services?
Kristen enjoys spending time with her family and being outside and is happiest when she can combine those two things. She especially loves hiking and can often be found wandering around the plentiful trails in Shenandoah National Park and elsewhere in the beautiful state of Virginia.
Kristen is also a Resident in Counseling in the Counseling Center, which is connected to Victim Advocacy Services. As a Clinician, she works with students with a variety of concerns through individual counseling, group therapy, crisis intervention, and consultation services. You can learn more about counseling services on our Counseling Center page.