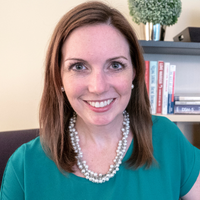 Victim Advocate, Clinician, & Associate Director for CC Administration

Nina currently works as a victim advocate and staff clinician at the Counseling Center. She has also provided on-call Advocacy services for Harrisonburg's sexual assault crisis center, the Collins Center, since 2017. She previously volunteered with the Women's Resource Center of the New River Valley.
Nina has her Bachelor's and Master's degrees in Psychology and has been a Licensed Professional Counselor since 2013. Nina has worked at the Counseling Center since 2010, first as a Clinical Case Manager and currently as the Associate Director for Administration. Prior to working at JMU, she provided clinical services in a variety of mental health settings.
Nina is invested in providing a warm, safe, trauma-informed space to support healing and recovery and has a passion for providing care and support to survivors.
What do I do at JMU outside of Victim Advocacy Services?
Outside of Victim Advocacy Services, Nina enjoys interacting with students, particularly around personal and professional development related to empathy and leadership. Nina appreciates the beauty of the JMU campus, especially the Arboretum, and looks for opportunities to be outside!
Nina is also a Clinician in the Counseling Center, which is connected to Victim Advocacy Services. As a Clinician, she works with students with a variety of concerns through individual counseling, group therapy, crisis intervention, and consultation services. You can learn more about counseling services on our Counseling Center page.