Services for Students, Faculty, and Staff
We empower students, faculty, and staff to develop writing skills and confidence by providing one-to-one consultations, resources, and programming that support and enhance writing across campus. Come see what our team of professional writing consultants has to offer: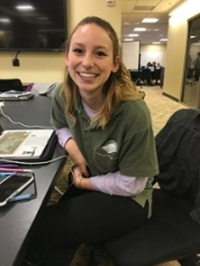 Free, individualized writing consultations
Faculty consultations for designing assignments and for responding to student writing
Online resources
Online sessions for those who have trouble visiting the center
UWC Professional Writing Consultants can help you
Address your writing anxiety, plan before your writing procrastination, and overcome your writer's block
Understand your writing task
Discover your ideas and identify your topic
Evaluate your audience and purpose
Develop and/or refine your thesis
Incorporate your sources effectively
Revise for coherence and organization
Edit for clarity and conciseness
Work in APA, Chicago/Turabian, MLA styles/formatting
Understand grammar, punctuation, and usage
Develop revision strategies
What you need to know about writing consultations
What happens during a UWC writing consultation?
Your UWC consultant will have checked out the "Schedule an Appointment" form you completed in signing up for your session and will have paid special attention to your response to the "What are your concerns about this writing task?" question.
In Fall 2020, you can opt to sign up for a 30- or 60-minute UWC session in the WCOnline scheduler. In practice, this means 25 or 45-50 total minutes of session time, as your consultant will need a few minutes before their next commitment.
When your session starts, your consultant will probably ask you about your writing effort, where you are in it, your prompt/assignment/goal, task...
The shape your session takes will depend on where you are with your draft, where/how you want to focus, and a mix of strategies that work for you and/or for your writing task. If you know how you work best, say so. If you're looking for strategies, say so.
Your consultant will work with you and will also actively check in with you: "What writing strategies have worked for you in the past?" and "Is what we're doing working?"
Your consultant will also help you identify priorities, patterns, and approaches that you can transfer to other writing tasks.
Will my UWC writing consultant correct my grammar and punctuation errors?
The short answer is "No!" The UWC is not a last-minute fix-it shop.
The longer answer is that we hope you'll see us as colleagues, coaches, mentors, and readers, rather than editors. We can help you develop editing strategies and help you identify mechanical errors, but we won't proofread your papers for you.
Will my professor know that I visited the University Writing Center, or what we talked about?
No. You can ask your consultant for a note stating that you participated in a session, but the UWC and its consultants do not discuss sessions with professors. A professor may ask you about your UWC session if you tell him/her you visited us, but we consider what is said during a session to be confidential. It's important for you to feel safe to test out ideas, and it's important for us to stay outside of the evaluative classroom learning space.
For more information and answers to frequently asked questions, check out our newly updated Make an Appointment page.