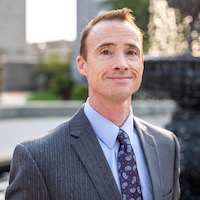 John F. (Jack) Knight currently serves as University Counsel for James Madison University and Senior Assistant Attorney General for the Commonwealth of Virginia. 
He provides advice and representation to the Board of Visitors, the Office of the President, the President's Cabinet, as well as faculty and staff.  Jack focuses on practice areas such as athletics, contracts and procurement, real estate, first amendment issues, and human resources matters, among others.  
Prior to joining James Madison University in 2008, Jack served four years in the Virginia Office of the Attorney General working with various state education agencies.  He received a bachelor's degree in Sociology from Virginia Tech in 1999 and a juris doctor from the University of Richmond in 2002.