Awareness and Educational Programs - Every year SOGIE offers numerous awareness and educational programs to the JMU community. The Coming Out Monologues, Transgender Day of Remembrance, and Trans 101 are just a few of the annual events that we plan.
Social Events – SOGIE plans monthly events dedicated to connecting with identity and others through activity or dialogue. Keep an eye out for our Affinity Group offerings, Community Chats, and Activity Hours.
Lavender Graduation - Our Lavender Graduation is to congratulate and celebrate the achievements of our LGBTQ+ graduates at Lavender Graduation! This is an opportunity to thank these students for their contributions to the LGBTQ+ community and the JMU community as a whole. In addition to celebrating our graduates, SOGIE announces our annual award winners. For information on SOGIE's events happening this semester please see the JMU Master Calendar and follow up on Instagram @jmu.sogie or Be Involved.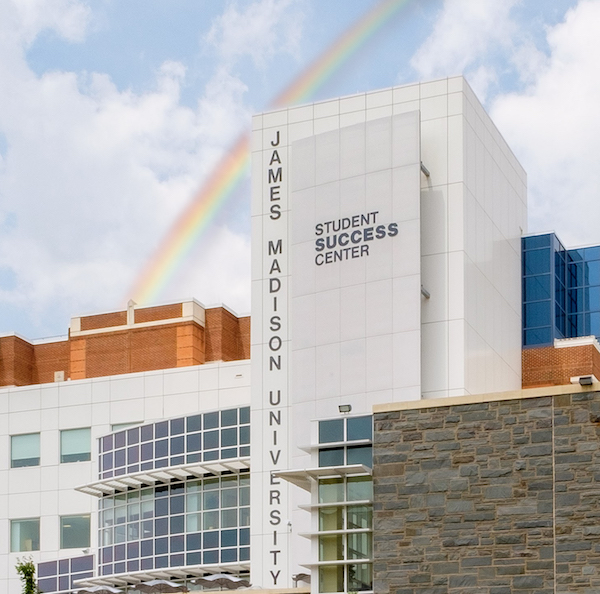 Donate
Set up a one-time gift, scheduled payments, or a reoccurring commitment to SOGIE.
Resource Library - More than 1,500 books and resources on all things LGBTQ related and more! All books are free to check out, and they have no time limit on them for check-out. All resources checked-out of the Lavender Lounge library are kept 100% confidential. The library is a safe space where you can read and learn about most any topic of interest.
Self-Expression Closet - Located in the Lavender Lounge, this is a free closet for folks to use. If you are looking for something new to better express yourself, check here! Once each semester we host a Clothing Swap, and during this week we take donations to the clothing closet. We accept gently used binders, bras, shirts, pants, skirts, dresses, jackets, sweaters, shoes, purses/bags and other accessories (belts, hats, gloves, scarves, jewelry, etc.).